Want to convert some lines of text into MP3 Audio file? Well, you don't need to spend much time or you don't need to download any software. CarryoutText makes this task much simpler, they also have a premium version with much more facilities.
Converting Text File to MP3 Audio File
There are three options to do this conversion,
#1 – Importing text from a file
#2 – Type or copy/paste the text
#3 – Import text from a RSS Feed
Here I used the #2 option for doing the conversion.
1. Go to this page and select the option "Type Or Copy/Paste Text".
2. Now you can type or copy/paste your required text in the given box. Here I took this sentence from 15+ Blogging Tactics I Learned From 'Porn'.
"As an industry, they are brilliant at what they do; let it be the techniques they use or the method of promotion. I'm not writing this from any personal or practical experience. Search for the term 'porn' and you will get 733,000,000 results within seconds. Online porn created new trends and the evolution of online video was very much driven by the world of porn I would say."
You will also have the option to select the speed here. After completing everything, click on the button "Submit to Process".
3. After the conversion is completed, you can download the output as MP3 Audio file. You will also have the option to play it.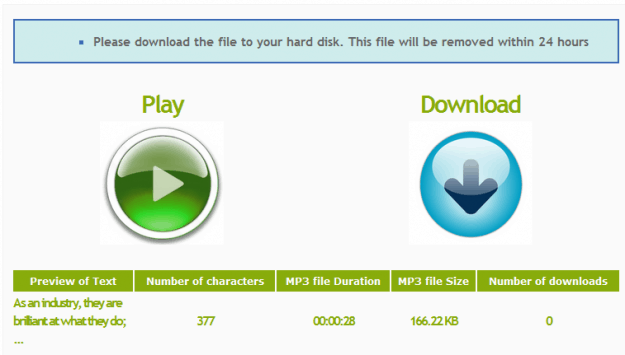 The audio conversion is quite good I should say. Below I used Google Audio Player for embedding this MP3 file, do listen to it and share your views on the comments below.
Have you tried this site? Are you comfortable with the voice? Do share your opinions below as comments.