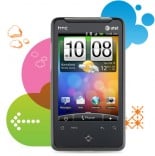 HTC, the popular Taiwan-based manufacturer of smartphones, is currently hiring staff for launching their 'possible' online App Store that would sell e-books and applications.
Still it is not conform whether they will open an unified app store, which will serve both Android-based devices and Windows Phone 7 handsets, the two operating systems that HTC currently uses to power their popular smartphones.
Some close sources revealed that HTC was hiring content editors for a planned online HTC store, which will act as a Marketplace, for its smartphones applications as well as for e-books and magazines.
[via Financial Times & TheNextWeb]