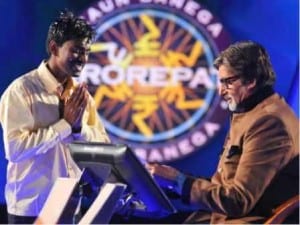 If you are a fan of Kaun Banega Crorepati (KBC) or if you are from India, you would have probably know that Sushil Kumar is the first one to win a cash prize of 5 Crore in Indian Television. He won the prize in a well-known reality show KBC (Kaun Banega Crorepati) hosted by Amitabh Bachchan. So here I am to reflect some things about Sushil Kumar which can help the bloggers a lot in achieving success in their field.
1.Curious to Learn
Curiosity of learning is the first thing that one requires in his life to achieve something one wishes to. Sushil Kumar had the curiosity so he was able to reach the 5-crore level. From his very childhood he had that curiosity to acquire knowledge. In the same way if the bloggers studies their topics, understands them well then they can easily achieve the knowledge that's related with the topics.
2.Determination
In life to achieve something you need a determined path. If you want to be a good blogger then you should be determined about your work. Sushil kumar determined his path and thus made up to it.
3.Hard work
Now you may have curiosity or determination but if you don't work hard to achieve your goal than everything will go in vain. Sushil Kumar worked hard and at last made such a record which none has ever made..
4.Courage
Sushil Kumar, a poor man from Bihar was very much interested in winning a prize by participating in KBC in order to change his life. He watched KBC and took participate in the Screening Test and thus got the chance to play the life changing game, KBC. Had he been staying at his home by just watching KBC and not taking part then he would have never been able to make it. But he had the courage to do so and if you are good enough in your field then you should make your parents or your elders understand that you love to do your work. Tell them that you don't want to do something in which you don't have any interest.
5.Patience
Above all the very important thing that you need to have is Patience. You are working very hard with determination to reach your goal but you may not get the result very soon. You need to wait sometime for getting something which really means a lot to you. Now if I take Sushil Kumar as an example then I want to tell you that he waited for about 11 years to reach his goal. Yes 11 years, that shows us how much patience he has. He kept on trying to come and play KBC from year 2000 and got the chance in 2011. So his wait for such a long time didn't go useless, he got success and made himself a unique person in front of the world.
Really Sushil Kumar had all the required qualities which took him to his goal. So bloggers start acquiring and developing those qualities and if you do so then I guarantee that you will really achieve what you want to.