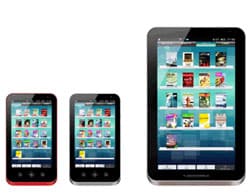 Sharp announced it is going to launch two Android-based Tablets this December. It will be a 5.5-inch and a 10.8-inch tablet named Galapagos. They are also planning to open an electronic bookstore in December, but unfortunately only in Japan.
The 5.5-inch tablet will have a 1024 x 600 LCD screen and the 10.8-inch tablet will have a 1366 x 800 LCD screen. Galapagos will feature Wi-Fi communication and are Android-based. They will be available in red, silver and black.
Talking about the electronic bookstore, it features "Automatic Scheduled Delivery Service" for periodicals and also it delivers free trial versions of recommended content. The e-bookstore will also feature 30K books at launch. Though Sharp plans to expand content to movies, music and games on 2011.
Continue reading Sharp Going To Launch Two Android-Based Tablets