You would have been tweeting 24×7, but have you tried Audio Tweets? If you want to convey something more potentially you can try this. Now I'll share some of the useful tools to send audio tweets to Twitter.
Chirbit is a useful and fun tool that enables you to record,upload and share your voice or audio files easily. Record your voice using a webcam or microphone conected to your computer, or upload an existing audio file. You can then share your chirbit, on twitter, facebook, email, your blog, or smartphone.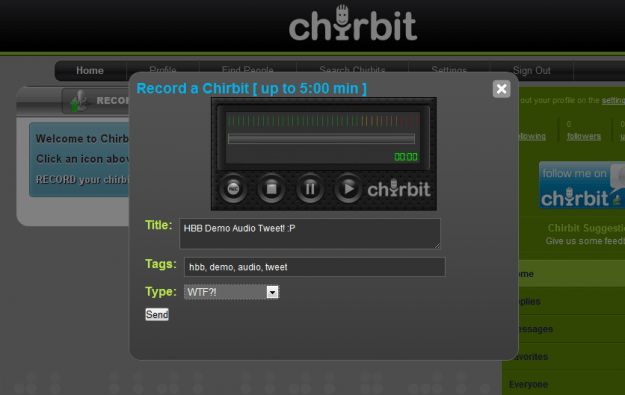 Create a free account there, and you are ready to sweeten your voice. You can start sharing your audio or voice right away. You can use your microphone or webcam to proceed. They'll record your voice and upload it. Now you can share them on your tweets. You can check this video for more details.
You can upload audio files like mp3, aiff, amr, m4a and wav. They also have the option to download all your recordings. You can also try sites like AudioTweet and Chir.ps.