Having lots of categories and tags on your WordPress blog confuses your readers and it won't build a good navigation path. By organizing your WordPress tags you can fix this. You can remove unused WordPress tags, i.e., WordPress tags with 0 posts. This simple WordPress tip will help you to remove WordPress tags with 0 posts in bulk.
Deleting WordPress Tags With 0 Posts
1. Go to your WordPress Dashboard. Then Posts | Post Tags.
2. Click on the Screen Options in top right. Change the number of Post Tags to display, make it around 100-500.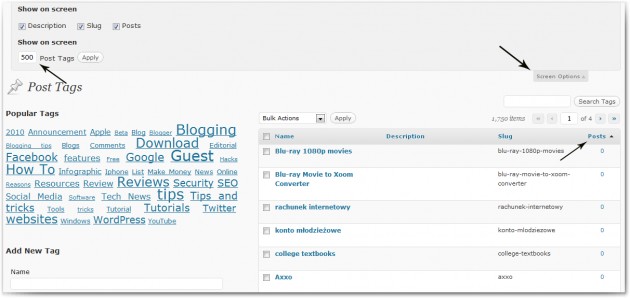 3. Now click on the Posts in the right hand side. Now you can see the all the posts with 0 tags. Now select and delete them, you can also use bulk action for that.
Hope you would have found this simple tip useful. Feel free to discuss about organizing WordPress tags below.