The buzz is not over, even though they are public now. Google+ has the potential to drive people crazy, and it is neat (like Google.com). Recently I tried my hands on Google+ and was able to see much difference and elegant performance. Google provides an option to add Google+ Profile buttons on your blog, you can see them below. Earlier we shared how to add Google +1 button on websites.
Adding Google+ Profile Button On Your Blog
1. Go to Google Profile button page and you can pick your desired button size.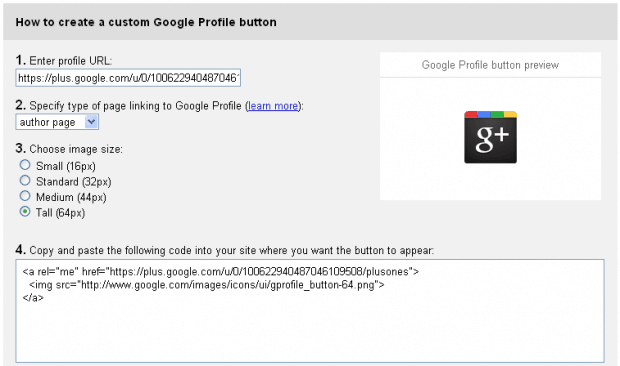 2. In the 'Profile URL' box you can enter the Google+ Profile URL, here I have used this https://plus.google.com/u/0/100622940487046109508/plusones. Even if you enter Google Profile URL, it will redirect to Google+.
3. Now choose your desired image size and get the code. Google has strict branding guidelines so you won't be able to customize the logo according to your wish.
See the sample profile button here.
If you are in Google+, you can Connect with us or add us to your circles.
[Thanks <a href="http://www.quickonlinetips.com/archives/2011/07/google-profile-buttons/" target=_blank" rel="nofollow noopener noreferrer">QuickOnlineTips]