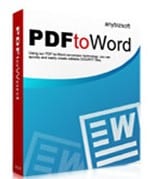 AnyBizSoft PDF to Word Converter 3.0.0 is the easiest solution to edit and reuse PDF contents. This wonderful software is available for both Windows and Mac users.
Some reasons why you should move on and check this product :
#1 – Standalone, don't require Microsoft Word and Adobe Acrobat.
#2 – Support encrypted PDF files conversion.
#3 – Preserve text, layouts, images, tables and hyperlinks in an editable Word document.
#4 – Support Batch conversion of 200 PDF files, Partial, and Right-click conversion modes.
---
Overview
AnyBizSoft PDF to Word Converter is an efficient application to convert Adobe PDF files to well-formatted Microsoft Word documents. Perfect tool to convert PDF to Word. You can use the tool even without installing Microsoft Word. The original text, layouts, images, tables and hyperlinks can be exactly retained in the generated Word documents. Modifying or reusing the contents becomes easy after converting PDF to Word.
---
Specifications – Key Features
Key Features
Supported Formats
Support importing Adobe PDF 1.0—1.7 formats (.pdf)
Support encrypted PDF files conversion
Convert PDF to Word Accurately
PDF to Word Converter preserves the original layouts of text, columns, tables, graphics and hyperlinks of PDF files to Ms Word documents. There's no need to retype or reformat the converted documents
3 Efficient Conversion modes
Batch conversion—Convert 200 PDF files at one time
Partial conversion—Select any pages from the PDF file to convert
Right-click conversion—Right click on a PDF file and convert it into a Word document without launching the program
Miscellaneous
Extremely easy to use
User-friendly interface
Doesn't need Adobe Reader or Acrobat to be installed
Doesn't require Microsoft Word
Support PDF files in 9 languages: English, Turkish, Thai, Latin, Korean, Greek, Cyrillic, Japanese, Chinese
---
How To Use AnyBizSoft PDF to Word Converter?
Just 3 steps to show you how to use AnyBizSoft PDF to Word Converter:
Step 1. Launch PDF to Word Converter
Launch PDF to Word Converter by double click PDF to Word icon on your desktop.
Step 2. Import PDF files
Click Add and browse your computer files to locate the PDF files to be converted. You can import as many as 200 files in this program. After the files are imported, the file information will be shown in the panel.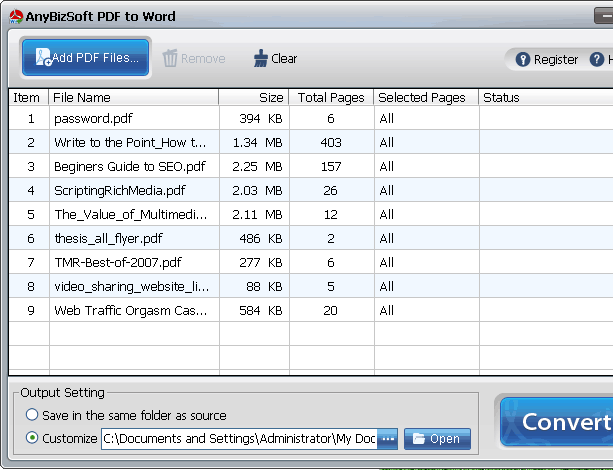 Step 3. Convert PDF files
Just click the Convert button, and wait for a little while, you will get the Word files as you want.
During the conversion, you can terminate converting the files by clicking the Cancel button where the Convert button is.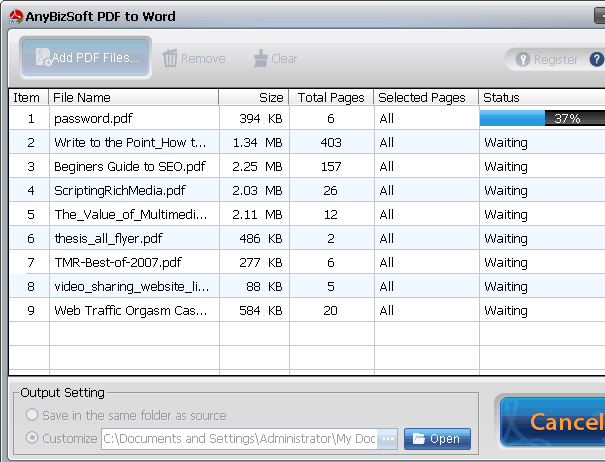 After the conversion is completed, a dialogue box will pop up, informing you the conversion is finished. You could click Open to go to the destination folder.
In a nutshell, this is a great product. Do share your opinions as comments below.