Big fan of Google+? Unfortunately they don't provide a widget for your blog, but we got our eye on a site which provides fortunately. 😀 Though we can generate Google+ profile buttons, this one is quite difficult.
WidgPlus, a third party application for Google+ allows you to create a widget for your Google+ account and you can use the embed code on your blogs or websites. The widget allows you to show your latest Google Plus posts on your blog or site. Therefore its a great opportunity to get in touch with your visitors!
Go to WidgPlus and enter your Google+ ID. It is nothing but the group of numbers present in your profile URL.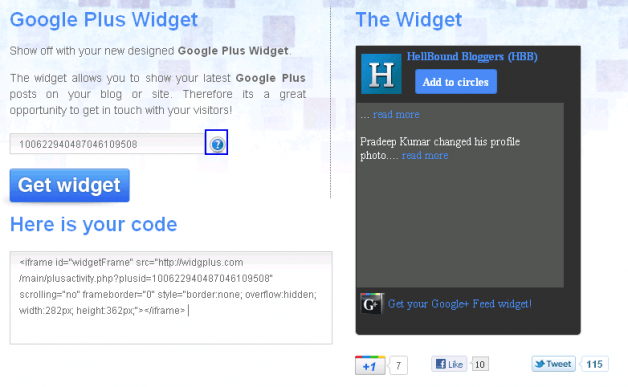 Our Google+ profile URL : https://plus.google.com/100622940487046109508/posts
Here this is the ID : 100622940487046109508
Copy and paste yours there and get your widget. You can see the demo of our widget below :