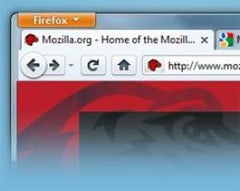 January 25, Firefox officially released beta 10 of its upcoming web browser. Although it's already been delayed by a fair while, this beta should be removing most of the bugs and code errors that they've been trying to clear since the previous beta's –  meaning that the new Firefox 4 should be released to the public any day now.
In case you haven't heard about what's been going on behind Mozilla for the past while, Firefox 4 is taking a huge step up from its previous 3.6 version. Sporting heaps of new features and developments which has been described as being the next step for Mozilla towards taking over the browser market.
Firefox 4 brings Mozilla to Mozilla 2
The new features that have been developed into Firefox 4 have been described as what will take Mozilla towards version 2. A re-invented browser interface, this new and upcoming version of Firefox integrates the features that were planned out in previous versions but not completely added. So now we are going to have an amazing web browser that is jam packed with features to improve your online experience. Here's a closer look at them now.
---
Some of the major features of Firefox 4:
A re-designed browser interface:
The new Firefox interface brings the tab bare to above the navigation pane. Just like in chrome and opera, Firefox now shares a similar interface. This version also takes advantage of Windows Aero to make things just that little bit better.
Hardware acceleration:
Now taking full advantage of hardware acceleration. Firefox 4 will make use of hardware elements such as the GPU to deliver a much faster and responsive web experience. Html 5 support and the likes are all included.
Crash protection:
This new version of Firefox will support crash protection, meaning that separate functions such as adobe flash and Microsoft Silverlight will not bring your browser down if they stop functioning.
---
A few of the reasons to get ready:
I haven't seen a major update from Mozilla in a long time so this is something that I'm certainly looking forward too. I'm not a chrome fan and I think that Firefox offers many more features and customizations than any of the other browsers do offer. This update is certainly not one you should miss.
This guest article is written by Peter, a 15 year old blogger from Australia and the owner behind ideas bubble. If you wish to write for HBB, kindly check this.