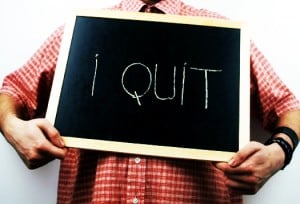 Although Blogging is definitely lucrative and there are thousands of successful bloggers who make a lot of money every month, the bitter truth is that a large majority of bloggers fail and quit blogging just within 6 months of starting their blog. In fact out of every 100 newbie bloggers, around 90 hang up their boots even before enjoying a trivial amount of success.
Why does this happen? Why do newbie bloggers find it hard to stand out in this ever expanding blogosphere? In this post I'll discuss some reasons why this happens and hopefully you can learn some lessons from it too.
1. Looking for quick money
As it often happens, when people read about the success stories of others they get motivated by the desire to earn quick money and replicate their success. As making a blog requires only a small investment initially, and some bloggers regularly post huge monthly incomes, newbie bloggers tend to think they can also do the same with ease.
However it generally doesn't happen that way since they look at blogging like an easy way of making money overnight, which is the reason why they don't bother about putting in long hours in their blogging pursuits. However just like any other Business, blogging also requires a lot of hard work initially, which most newbie bloggers don't seem to understand, leading to lack of results and disappointment. Check the 3 Rules you should follow before you make money blogging.
2. Not passionate about writing
Though I may sound rude but it's always better to crush unrealistic expectations. The fact is that blogging is not just for anyone and one can only succeed if he has a penchant for writing, which is not the case with most new bloggers out there. Thus those newbie bloggers who don't have a knack for writing or don't enjoy writing find themselves slacking off after a while and they are unable to come up with good content on a regular basis, which makes them shy away from posting frequently on their blogs. Always remember, don't get bogged down when Blogging.
3. Lack of Motivation
Though most bloggers start out with a bang and are extremely motivated in the beginning, adding content regularly in the first month or so, this motivation starts fading away with each passing month, and the period between the third and sixth month involves the maximum struggle since it is a make or break time for the blogger. Those who quit are generally the ones who don't have the motivation left to continue their blogging pursuits, while the ones that manage to overcome this period generally end up on the winning side. If you are tired of writing, here are 7 tips to overcome that.
4. Not enough topics
While starting out every blogger thinks that adding content should be a piece of cake and they would somehow be able to add lots of quality content to their blog. As a matter of fact, adding content involves as much research as the writing part, which these bloggers don't realize and they either end up copying other bloggers' articles or not writing at all, both of which are extremely harmful for the growth of the blog. Here are some useful posts to get inspiration:
5 Ways You Can Get Fresh Content Inspiration
4 Tips to Find Unlimited Blog Post Ideas
5. The Unavoidable renewal
Though this may sound strange, but I personally know many bloggers who invested in setting up their blogs, thinking that they would recover the money in no time and then renew their hosting accounts with the same. However when they don't earn much in the first few months and the renewal time for their blog is up, they are unwilling to invest any more money as they are skeptical whether blogging can make them any money at all and they end up abandoning their blogs as a result.
I hope that any new bloggers reading this post currently will be able to learn from these common mistakes committed by most bloggers, and remain dedicated and focused on their goal to become a better blogger.
IMAGE CREDIT: ISTOCKPHOTO
This article is written by Harshit Singhal. He is a blogger, tech enthusiast and freelance writer. He gives blogging tips on his blog Exceptional Blogger. If you wish to write for HBB, kindly check this.