Even though Internet is now ruled by a different kind of communication, we still rely on email for several reasons and yes it is also one of the most convenient way. But email address is not easy like Twitter and Facebook to authenticate, we cannot conform whether it is genuine or fake easily. I found out some useful tools to check whether an email address actually exits or not, you can see them below.
The tool I tried is Verify Email Address and it is quite awesome. This will be really useful for newbies. Just go to this site and enter your email address.
Email Address Verified
This means the email address is correct. They checked the email address syntax and also whether the mail server is working properly or not. So the email address "pradeep@slashsquare.org" is valid.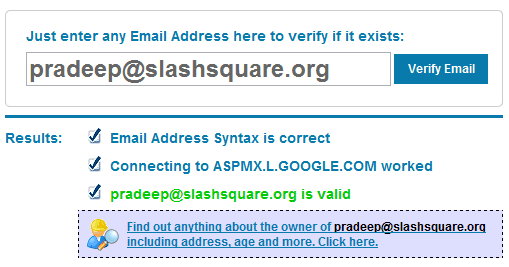 Email Address Is Not Valid
Here the information says the email address "asdfasd@slashsquare.org" was not created by the administrator, but has a mail server configured using Google Apps and the email syntax is correct. So the email address is not valid or available.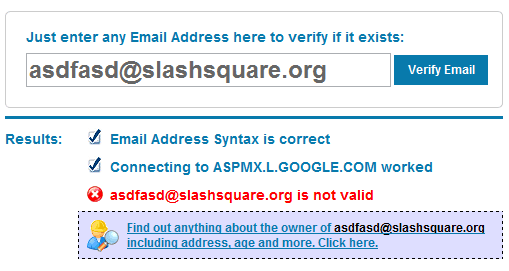 No MX Resource Records are Found
MX (Mail eXchange) Record is an entry in a domain name database that identifies the mail server that is responsible for handling e-mails for that domain name. Here the MX Resource Records are not found, so probably they might not have configured any mail server for sending and receiving mails. So any email address with "____@aasdjflasd.com" may not be valid.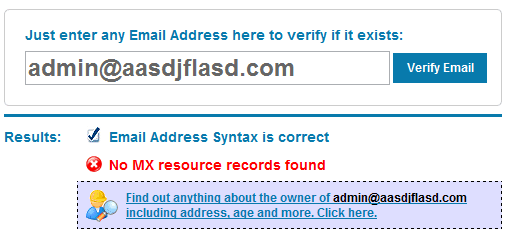 Invalid Email Address Syntax
Normally an email address will look like "name@domainname.com", but the one mentioned here is not, so obviously it is an invalid email address.

What Really Happens Behind?
These screenshots gave simple explanation, what really happens is quite geeky, you can check the process below.
Log:
MX record about slashsquare.org exists.
Connection succeeded to ASPMX.L.GOOGLE.COM SMTP.
220 mx.google.com ESMTP h3si178813obx.132
> HELO verify-email.org
250 mx.google.com at your service
> MAIL FROM:
=250 2.1.0 OK h3si178813obx.132
> RCPT TO: =250 2.1.5 OK h3si178813obx.132
Geeky? Simple Explanation Here.
1. First they get MX DNS records of the domain name to verify which mail server is used.
2. Then they check the mail server to see whether the username really exists.
3. After verifying with the email syntax and all, the results displayed.
That's it, no big issues.
Meanwhile you can also check out similar tools like Verify Email Tool and Verify Email.
Do check this and give your opinion. Have you used any other tool for verifying email addresses? Kindly share them below.