Happy New Year to all the fellow bloggers and beloved readers of HellBound Bloggers community! Hope you had a great party yesterday night. Unfortunately I was down with Fever! 😀
We placed banners (125*125) of Top 2 Commentators of November on the sidebar for a period of 1 month and this month it is going to Senthil Ramesh from Novice Bloggers and SriGanesh from Animhut.
Congrats to them and I would like to thank all the commentators for their active participation! 😉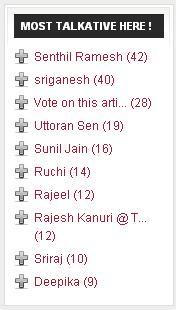 MUST READ :
1. Brand Your Comments To Drive Traffic To Your Blog
2. HellBound Bloggers – Comments Policy
I guess you might have made lot of New Year resolutions.
But always remember that…
Good resolutions are simply checks that men draw on a bank where they have no account – Oscar Wilde
Ha ha..Once again Happy New Year. Have Fun and Rock On!