The hardest part for a blogger would be satisfying readers faced with downtime. You have to convince them in a manner they won't get frustrated and also please them visit again.
Whenever your WordPress has a problem connecting to your database, you can display a custom database error page to your readers. You can make those pages branded so that your blog can still shine during that downtime.
Creating Custom WordPress Database Error Page
1. Open any Text Editor – Notepad or Notepad ++ (Check some alternatives here). Now it's time to play with your creativity and imagination. Create a creative custom Database error page now, don't forget to use your blog's logo there and also some apologies for the downtime.
Also if you have a status blog, ask your readers to check that, so that they can know the cause of the downtime and when your blog will be up again.
2. Save that file as db-error.php.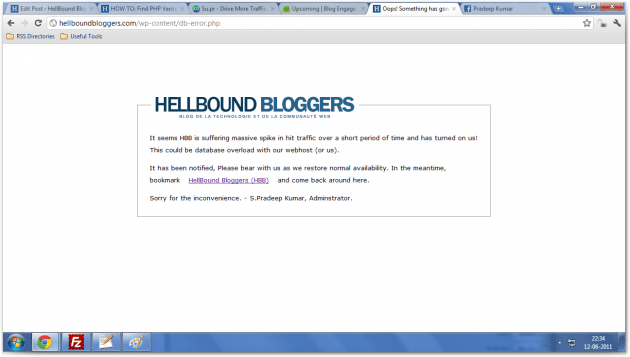 3. Now move this file to your wp-content section. Use FTP Client like Filezilla (check alternatives here) for doing that.
Why wp-content folder? Even if you upgrade WordPress, the contents will be still present there.
4. That's all, bingo! You can check HBB's Custom Database Error page using this URL :
https://hellboundbloggers.com/wp-content/db-error.php
Most of us lose our blog readers because of downtime, you can also create a Status Blog for communicating with your readers during that downtime.