If you are into affiliate marketing then you would surely be knowing about ClickBank, but if you are not aware, it is an affiliate network. It is the best place for Internet Marketer as they can earn fast cash from it just by promotiing the products in there directory. It has great Tools and resources to enhance your marketing experience. All newbie bloggers who are thinking of trying affliate marketing can check this out.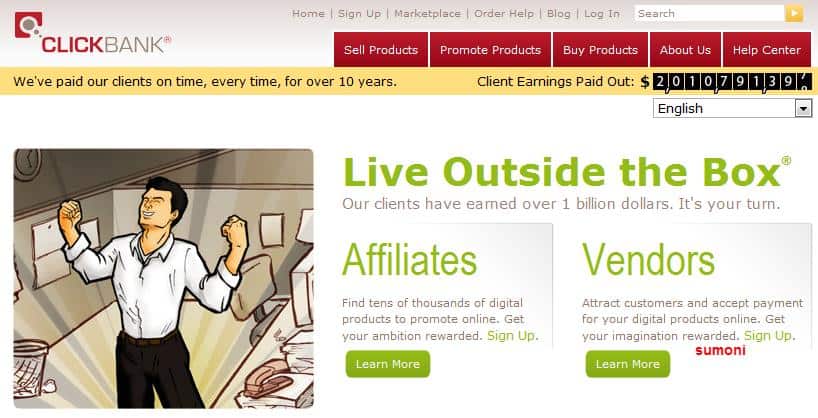 ClickBank only deals with digital products which are downloadable online only. There is no such requirement of any physical delivery. To start promoting clickbank products all you need to do is just register with them, after you have register you can then promote tens of thousands of products that suits your category. The sales commission offered by the merchants on ClickBank is usually very high and affiliates can make up to 75% per sale.
There are millions of affiliates who have joined them and earn on regular basis, so you should not hesitate to try ClickBank if you are serious about your business!
Now I will give you some tips on how to promote your ClickBank affiliate ID using various methods!
Promote Your Products in Forums
Forums promoting is the best promotion method for ClickBank products because you can add your affiliate IDs in your signature (if forum permits) and see your sales coming through. But make sure that you add links in your signature which is relevant to the thread or question asked so that people will really be interested in buying your product. Some forums won't permit you to add signature immediately when you sign up, for that you can ask 3-4 questions in a week or so and build trust in the admins eye so that he allows you to add your signature.
Promote Your Products in E-mails
In this day and age, almost everybody uses email to communicate, to chat etc. Your email may be personal, study related, business oriented or anything that you can think of but unlike Forums you can add up your affiliate ID below your email without any restriction. You can also add up your affiliate ID in signature. Never neglect this signature because if you send 50 mails daily then you might well add your affiliate ID below your name in email and eventually you would be mailing the link to 50 persons daily and you never know someone might be looking for products actually which you are promoting.
Though adding affliate Link manually can be a cumbersome job, so to speed up the process you can add WiseStamp to your browser. What this WiseStamp does is that it automatically adds your signature below every mail that you send.

Promote Your Products on a Website
Though this is the best tried and tested method but since many starters or newbie don't have a blog or website to promote, that's why I have listed it at last. Almost 60% of affiliates earn through website promotion only. You can add up your affiliate ID in your post or you can promote it using banners, text ads etc. But make sure that you are promoting product relevent to  your website only, example if you website is about Best antivirus software then you should consider promotiing Anti Virus products only.
Make sure that your website looks clean even after you have added your affiliate IDs.
 Conclusion
ClickBank being the most popular affiliate network providing upto 75% affiliate commission. You should start your bussiness with ClickBank products and earn some hard cash amd start building your own empire with that.
This article is written by Sumit. He is an SEO consultant. His area of interests include Windows 8, WordPress, SMO, and SEO.