Earlier we shared "Add to Kindle" button and Facebook "Send button, now something to bring you direct traffic. If you are not aware about Techmeme, it is a popular news aggregator site. Get featured in Techmeme, and you can expect 1000s of visits to your site.
Why You Should Add This Button On Your Blog?
If 'breaking news' is something your blog gives, then you must try this. Techmeme displays all the trending and breaking technology news. Getting featured on Techmeme as several advantages. Your blog gets good traffic and it will also get good exposure.
How To Add "Suggest to Techmeme" Button?

Techmeme uses Twitter to get most of their news/tips. To send a tip to Techmeme, just include "Tip @Techmeme" or "Tip @TechmemeFH" in your message along with the URL of the news story you'd like to appear. Check the below image for example :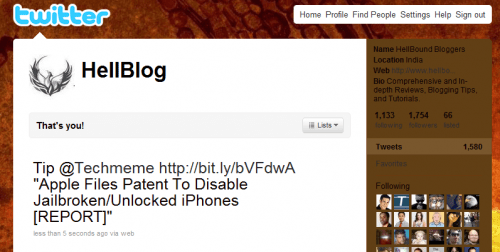 You can try Sociable – "Suggest to Techmeme" WordPress plugin for creating a exclusive button for it. Then your readers can also tip Techmeme, thus increasing the chance for getting featured.
[Download "Suggest to Techmeme" plugin]