Welcome to HellBound Bloggers (HBB) – Branding Series! Branding is nothing but increasing the visibility of your brand. I'll publish a series of blog posts that helps to brand your blog/product/company and make it professional. Ah, I'm not an expert but I'm sure simple tips are the building blocks for a system's core value. So here we are, first I'll start with this simple yet valuable one.
Are you still using those usual random email addresses like blogname@gmail.com or nameplusbirthdate@yahoo.co.in? Of course they are secure and reliable, in fact you can use these for the accounts that involves transactions. But when you are displaying such email addresses publicly on your blog you'll lack professional and branding. Talking about "Branding", it takes your blog to the next level free of charge.
Using custom email addresses are healthy for your blog's brand and ensures trust. Readers and Advertisers find such email addresses easy to remember. Let's say:
advertise@example.com – For advertising queries
name@example.com – Individual Author's Email Address
report@example.com – For Feedback/Reports/Bugs
See, it is easy to remember and looks professional. Now the question is, how to create such custom email addresses. We had Google Apps earlier to create such address for free, but unfortunately they closed their free version due to some reasons. Now you have to pay for using them. But fortunately we have a very good alternative, that too from Microsoft, pleasant isn't it? Gmail vs Outlook!
They are the two recommended ways for creating custom email addresses like mentioned above,
#1 – Microsoft Live Domains (Outlook.com) (FREE)
#2 – Google Apps (Gmail.com) (PAID)
I can't really compare their features, and say which is greater. But I'll tell this, if you have bucks and if you are only comfortable with Gmail interface then go for #2, if not then #1 is the BEST option.
Microsoft Live Domains (Outlook.com)
Here, after configuring everything you'll be using Outlook.com awesome new interface with your custom email address.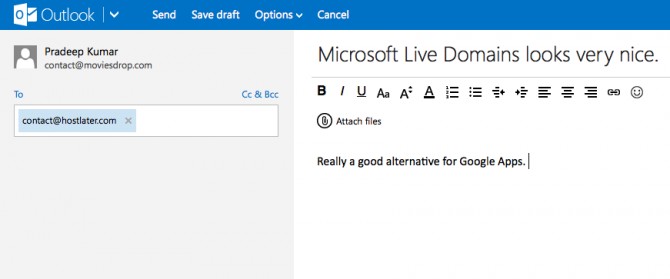 Google Apps (Gmail.com)
I'm one of those few lucky users who registered Google Apps before they closed their free version. It was really a big disappointment considering the fact how popular Gmail and Google are. They have also restricted the number of free accounts (users) we can create.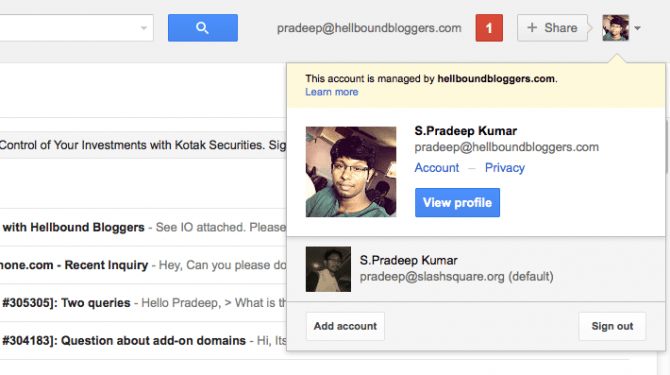 So like I mentioned above if you have some good bucks and if you are only comfortable with Gmail interface then go for it, else go for Microsoft's Outlook.com and save those bucks. For configuring Google Apps for your domain, you can refer this detailed guide – How to Setup a Professional Email Address with Google Apps and Gmail
Hope this Branding Tip #1 is very easy to apply, it just takes, say 15 to 20 minutes to do this. So kindly do this fast, and let us know in the comments if you face any difficulties.
Also you can connect with us on: HBB FB Page | HBB FB Group | HBB Twitter for further updates regarding this "Branding Series".