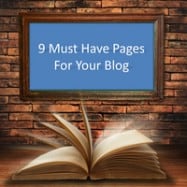 Before you lay the foundation for your dream house, you need to estimate your costs, select a design, choose the materials and architects and set up the contract. Similarly, designing your blog requires that you spend hours choosing a niche, plan, structure, and site design among others.
Setting the right foundation for your blog is the key to its success. There is a good possibility that people visiting your site are looking for joint ventures, advertising options, networking, or other information.
Creating the right pages on your blog will help you reach out to your readers and imbibe in them the confidence in your abilities. Once your blog is set up, ensure that you have these basic pages to make your blog complete. Below we will see 9 must have pages for your blog or even your small business websites. Newbie bloggers are not aware about the important of these pages. These pages indeed optimizes your blog homepage.
Continue reading 9 Must Have Pages For Your Blogs & Websites