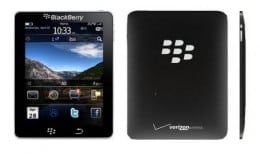 Just as we started talking about Sharp's Android-Based Tablets, RIM unveiled BlackBerry "PlayBook" tablet. I think I should create a separate category for 'tablets'.
RIM (Research In Motion), the maker of BlackBerry phones is going to hit the tablet marker this time. RIM announced the 7-inch BlackBerry PlayBook. It has features like dual high-definition cameras and also boasts support from corporate IT departments.
PlayBook has good gaming and applications features. This tablet will be running the BlackBerry Tablet OS which was developed by QNX. This platform will enable OpenGL, POSIX, Flash content via Flash 10.1 as well as HTML 5 web standards support.
Continue reading RIM Unveils BlackBerry 'PlayBook' Tablet — iPad Killer