If you are a blogger, then I'm sure you have heard the following quote so many times:

"Don't Put All your Eggs in One Basket"

Now the context of this quote is for all the bloggers who started with the concept that blogging is "money". In simple words, it means that you should position your blog in a way that you don't have to rely on a single monetization method to make money from your blog.
In earlier days, I started using various methods such as Google AdSense, Amazon Associates, CPA offers and of-course Sponsored Posts to make money from my blog. Recently, all of these CPC or CPA networks have became strict and they don't let newbies to join their networks until they follow strict guidelines.

That being said, most the bloggers get panicked when they see "AdSense Refusal" email in their inbox. So for all of the bloggers, whoever got such emails or even for those are still happy with AdSense, here is something useful for you (which I have tested myself and been using for last 2-3 months).
Hey Pradeep! Can you try our platform Pressly?
I didn't know what Pressly.me was until a friend of mine Subhash reached out to me, but since the name sounded appealing, I signed up on Pressly.

I was smart enough to understand what Pressly is as soon as I checked their homepage. A clean design and simple copywriting was enough self-explanatory to understand that Pressly is a network of Advertisers and Publishers (like me) who trade sponsored posts/press releases.

But come on! I have used 100+ such networks in the past and I was little skeptical about whether Pressly would be useful for me or no! But since Subhash is a good friend of mine (and this is of course not a sponsored post haha), I listed my blog on Pressly.

Now let me try to explain things in simpler steps:
Pressly for Bloggers:
If you are running a decent blog, which gets decent traffic, then there is unlimited potential to make money form sponsored posts. As there are thousands of active companies who want to promote their product/services. Here are simple steps to register your blog on Pressly:

Sign up on Pressly.
Once you sign up, it will ask you to choose an account type. So you choose "Publisher" here.
You can clearly see "Opsss! You don't have any websites yet" message on your dashboard and one CTA button "Add New Website." Just hit that button (Pressly accept websites from website owners only, so if you are an editor on some website, you can not list it on Pressly).
A new page will open which will ask you for certain details of your website such as website URL, price per post, etc.
Now here is how it gets interesting:
Pressly asks you to install one plugin called JSON APIS and they ask you to create an author account (make sure you create author account with EXACT SAME DETAILS provided by Pressly on their add website page).
Why Plugin?
Well, Pressly maintains a real-time connection with your blog 24×7 so that any advertiser can post any article on your blog instantly. You don't have to touch anything, all posting will be handled by advertiser only. Isn't that cool? Like you are sleeping at 3am midnight and one advertiser wants to publish article on your blog and he publishes it without waking you up.

Now as soon as you get any offer, Pressly will send you an email like this: [and since Authors can't modify any single pixel on your blog, there is no harm and all things are transparent for blog admin]
I've added website, what next?
Pressly has a manual reviewers team, who performs several vanity checks before they add any blog on their platform and you should be able to track the status of your blog on their "My Websites" page. Here is how my "My Websites" tab looks like: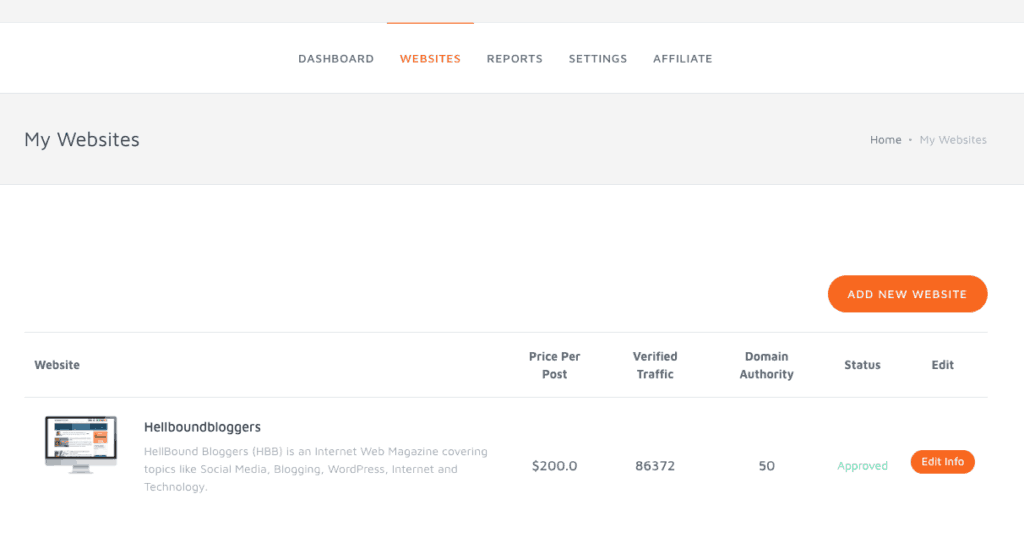 How do I get paid?
Pressly has monthly payment cycle and they release payouts on 1st of every month, just like AdSense. I got my payout on the new year (since my earning was for the December)

Here is how my Pressly Dashboard looks like for the last month:

So isn't it cool to just add your blog on Pressly and keep collecting payments without touching anything even for a second?
Pressly for Advertisers:
If you are a SEO or someone who handles press release distribution for your company, you understand the value of finding new web properties for your link building or press distribution activities.

Here are some common problems which Pressly solves with their platform:

Finding new blogs across 15+ broad niches.
No need to spend weeks to negotiate the deals (since every blog has a price set by the blog owner).
No need to wait for days to get the live link of the article. You can choose any blog of your choice and publish the article on it under 30 seconds if the content is ready.
You can filter the blogs with the category, domain authority, traffic, etc.
How do I use it for my PR distribution or link building campaign?
Now since I've already explained how Pressly can be useful to you, let's see how you can actually use it. I'll give you example of a link building campaign for one sample link building campaign for tech niche where objective is to acquire links from blogs which has a good metrics.

Sign up on Pressly and choose your account type "Advertiser."
You will be directed on a listing page where you can see hundreds of blogs listed on Pressly.
Apply all criteria and sort the blogs (see the left sidebar to choose your category, traffic, and few other metrics).
Sort the blogs according to DA or Prices from top filter bar.
Choose blog of your choice and hit "Publish Post Now" button which will take you to another page.
Compose your article, just like you do in WordPress
Process the payment and wait for 30 seconds (or maybe less).
Done! You should be able to see the live link of your article instantly.
Here is how an advertiser's reporting dashboard looks like: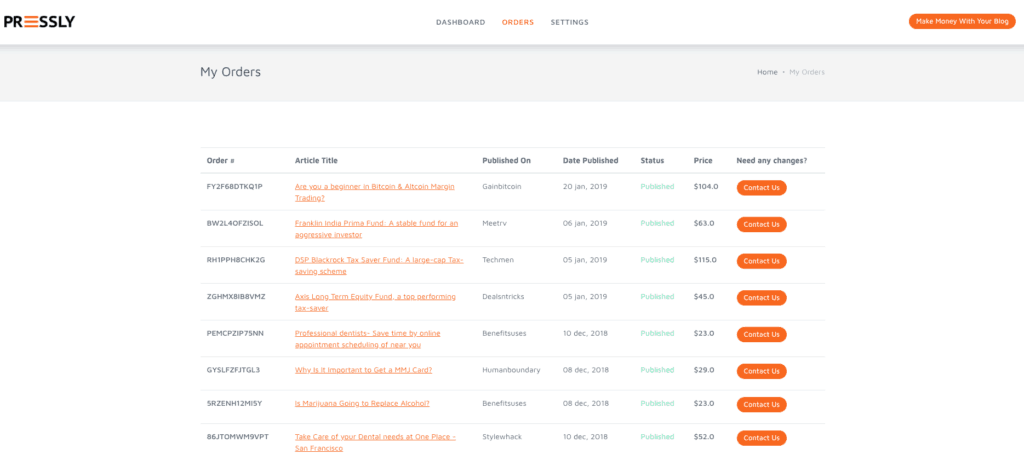 So overall my rating is 10/10 for Pressly.

PS: Don't miss their affiliate program, every blog which signs up from your affiliate link on Pressly, you get 15$ credit in your account which you can track in real-time.

Here is my affiliate link: Sign up on Pressly

Share your experience of using Pressly by commenting below.