This decision was taken few months before itself, but finally implemented it today. Finally I made HellBound Bloggers (HBB) a Google Adsense Revenue Sharing Blog. Though, am really sorry for authors not having Adsense account, I'll try to implement other sorts of revenue sharing too, like Chitika, Amazon, etc. 🙂
CREDIT : I have used Author Advertising WordPress Plugin on HBB.
HellBound Bloggers (HBB) is a Technology Blog and Web Community about Social Media, Blogging, Softwares, Reviews, and Tutorials with 22K Alexa Rank, PageRank 4 and Good Community Participation. HBB allows honest Google Adsense Publishers to increase their daily earnings legitimately.
---
Google Adsense Revenue Sharing Program

Revenue sharing program means to share the amount of revenue that a blog post earns from advertisements with the guest authors. Along with guest posting, now you can use your own Google Adsense code and earn money through it.
HBB is now a 100% Revenue Sharing Site. You write, you promote & you earn big bucks. Make use of the Author bio, you can indirectly advertise yourself and your blog.
Please read – Configure Google Adsense Code On Your Blog Posts
---
Adsense Revenue Sharing Violates Google Adsense TOC?!
The answer is a big "NO". Right from 2004, many blogs and websites followed this concept.
I recommend you to read the below mentioned things to ensure that we are going on the right way.
#1 – Google allows Adsense Revenue Sharing Concept. It has been happening on several famous blogs and websites.
#2 – Allowed Ad blocks are 3 Ads blocks (Text + Image), 3 Adlinks (link unit) and 2 AdSense search boxes. We follow that, and several AdSense Publisher IDs can be displayed on a single page/post.
#3 – The website/blog which offers Google Adsense Sharing should comply with AdSense TOS (Terms of Service). We triple-check it along with some Google experts + Experienced bloggers. HBB's content is purely English. We are safe! 8)
#4 – Your Ads will be displayed here as long as you keep your hands from clicking those ads. Avoid it! Or else your account should rest in peace, permanently.
---
Where Will The Ad Be Displayed?
A 336×280 Large Rectangle text ad will be displayed below the title of the post (single post).
This area gives your ad the maximum exposure. See the image below :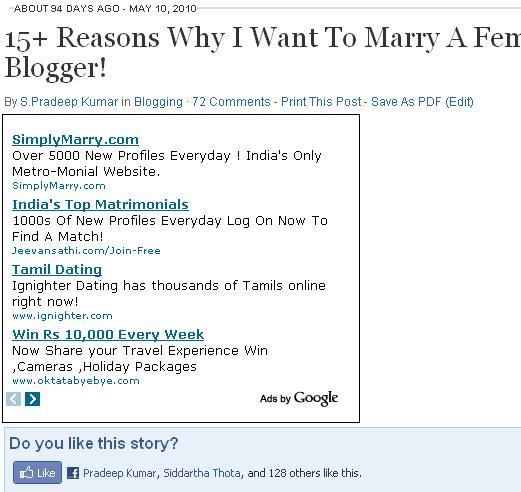 Recommended Configurations :
Ad Unit : Text ads only
Ad Format : 336×280 Large Rectangle
To know more, please check this – Configure Google Adsense Code On Your Blog Posts
---
Some Useful Links From The Community
Guest Blogging Details : Just give it a look to know "What the Hell it is "! Kidding, some stuffs about the procedure.
Guidelines & Tips : We all hate rules, but remember "My Blog, My rules" concept! 😀 Some guidelines and tips for better guest blogging.
Comments Policy : We have some set of procedures to respond to the comments made on our blog posts. Yup, they are author-friendly. Brand your comments and drive traffic to your blog.
Privacy Policy : Not really necessary, but worth giving it a look.
Disclaimer : Contributors cum Guest Authors need to check this if you are working on a tutorial or jailbreak stuff.
Copyright Policy : You have "Kick his a*s" permission if someone steals your articles.
Adding Adsense : If you are not familiar about creating Adsense code and adding them, please do check this.
Join HellBound Bloggers (HBB) Revenue Sharing Program Now
P.S. Existing HBB Contributors are requested to fill their Adsense-related details.
If you want to know more updates regarding this, subscribe to HBB and/or contact me.