Few days back we published our detailed Grammarly review and explained how awesome their Grammar/Spelling correction tool is. We also highlighted about their affiliate program there, but now, in this post, we'll share our comprehensive Grammarly Affiliate program review. We are using their affiliate program for the past few months and we got good results, thanks to their popularity and functionality, promotion is pretty easy I would say.
Grammarly Affiliate Program Review
If you have used Grammarly or if you are looking out for some products for affiliate marketing, then you are in the right place. Grammarly has two-tier referral system model, so you can also promote their affiliate program and earn through it. Let's check out the review.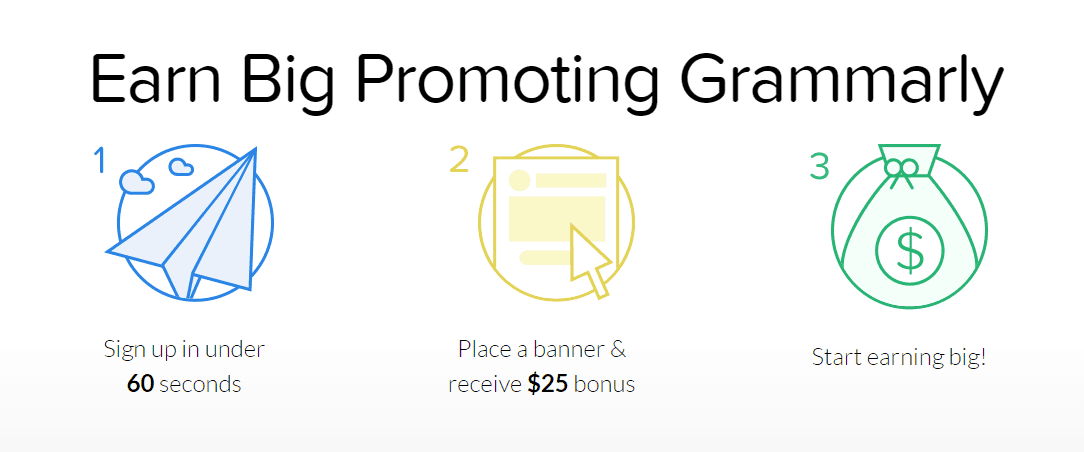 ---
Grammarly Affiliate Commission
Grammarly has both a free and a premium plan. But, don't worry, you will be getting paid for both. 😉 If someone uses your affiliate (referral) link and signs up for Grammarly 'free' version, you'll be getting $0.20 per registration. When that person upgrades for a premium version, you'll get $20 per upgrade.
Tip: You will also get $25 activation bonus if you sign up for Grammarly Affiliates and place their banner on your website.
We wrote articles and mentioned about Grammarly on various portions of our blog, it's a good tool to be honest, so people will obviously want to sign up since it's free. I'm also sure if they started to love this tool, then chances are high that they will upgrade for a premium plan like I did. They also have a 90-day cookie window, it's like 3 months, so you might get luck anytime.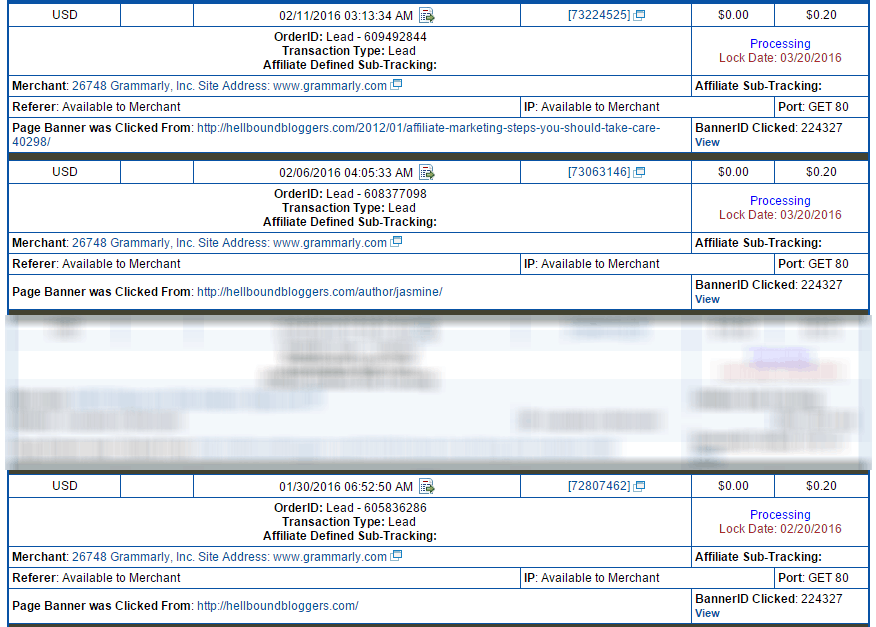 That's not the end, if you are a top performing affiliate, then you'll get increased payouts. You'll also get plenty of bonuses if you perform extremely well. If you can generate $2000 in sales/month, then you will receive $200 bonus. Think this is easy for you? Good news! If you can generate $4000 then you will get $400 bonus and for $8000 you will get $800 bonus. Awesome isn't it? They have an excellent affiliate support as well, so if you have any queries or if you are confused about anything, feel free to ping them anytime.
Apart from this, you will also get custom links, co-branded landing pages, and exclusive discounts. So sign up for Grammarly Affiliates if you haven't yet. They partnered with CJ.com and ShareASale for managing their affiliates, I preferred the latter since I already got used to their interface and payments. Minimum payout in ShareASale is $50. You have both Direct Deposit and Check payment methods.
---
How To Promote Grammarly & Earn Money?
If you are a Blogger, then I would suggest two things:
1) Write about their Grammarly tool + their Affiliate Program (Make it detailed).
2) Keep Grammarly banner ad on your blog (They have some awesome creative banners).
Tip: I think almost everyone uses AdBlock these days, so it'll obviously block your Grammarly ad banner as well. Don't worry, here is a small tip. Get the Ad Banner and download the image to your computer. Then upload that to your blog and use that URL instead. By default, it'll be hosted on ShareASale or CJ.com, but it's good to have it on your blog server instead.
Now, the affiliate link part, I'm using ThirstyAffiliates (Free & Paid) plugin for this, my affiliate URL for Grammarly looks like this: https://hellboundbloggers.com/go/grammarly/
So you can generate one like this, then promote it on your blog posts and banner ads. That's it.
Just in case if you don't have a blog, no issues then, you can use your Social Media contacts to boost the sale. You might be running a popular YouTube channel or a Facebook Page/Group, so you can utilize them to drive sales. Do check their PPC bidding policy before you use paid ads for promoting their brand. Happy Earning!
---
That's all I guess. Grammarly is a productivity tool for me, I use it almost everytime I write something. You can check out Grammarly Affiliates and register if you are interested in making some decent passive income. Meanwhile, if you haven't used Grammarly tool yet, you can sign up for free on Grammarly and start to experiment with it.
If you like it and if you are interested in writing a review about them, then you can request a free premium trial access from Grammarly for your research/review.
Hope you got all the necessary information from our Grammarly Affiliate program review, do let us know if you have any queries in the comments below.