Of course, WinRAR and 7-Rip are the most popular tools for extracting compressed files, but you can't expect them to be installed on every computer you use! I spend most of my browsing time on Internet Cafes, and they have a sick software for doing this task. So the best thing I thought of doing? Pick a web app like WobZIP for extracting compressed files online.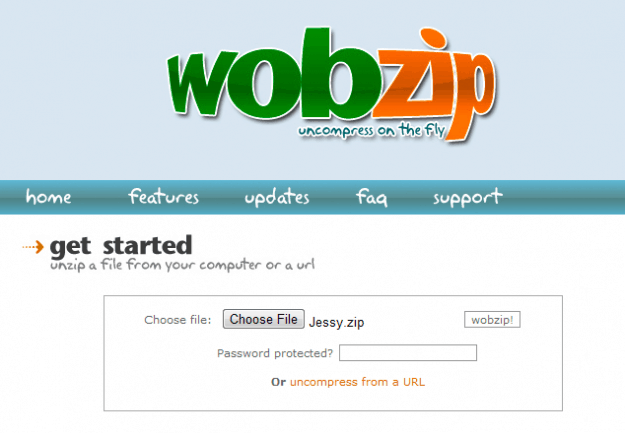 WobZIP is a free online tool that allows you to uncompress your files online. Wobzip supports formats such as 7z, ZIP, GZIP, BZIP2, TAR, RAR, CAB, ISO, ARJ, LZHCHM, Z, CPIO, RPM, DEB and NSIS.
They also scan your compressed files using an anti-virus scanner (Bitdefender) so any infected files will be removed before you download them onto your computer.
Extracting Compressed Files Online
You have two options for doing that, either you can upload your desired file or uncompress from a URL.
To uncompress files from your computer, go to the main page and select your file by clicking the "Browse" button then on "wobzip it!"
To uncompress files from a URL, choose the option "uncompress from a URL" and type in your URL. Click on "wobzip it!" to upload and uncompress.
A list of files will appear, and you can save your files by clicking on the filename. You can also save your files as a ZIP file by clicking on the "Download files as .zip" button.
I hope you would have found this tool useful. Do you know any other useful tool? Do share them in the comments below.