Recently the Android Market Google Play Store has gone on a sale with some of the best paid apps available in the market. During this festive season, it has decided to put some of the best apps in the market for a affordable price of five rupees.
Note: The apps might change after a regular interval.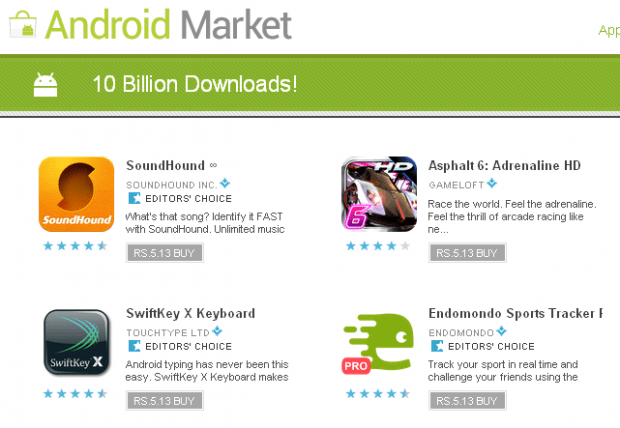 This promo offer is also being named the 10 Billion Promo to celebrate 10 Billion app downloads from the Android Market. This promotional offer might be for a limited time and you need to hurry because of the quality of apps available for an amazingly low price.
This sale features the following apps, which are actually priced much higher normally, are now available at a flat price of Rs.5.13 :
SoundHound
Asphalt 6: Adrenaline HD
Minecraft: Pocket Edition
SwiftKey X Keyboard
Endomondo Sports Tracker
Great Little War Game
SketchBook Mobile
Fieldrunners HD
Color & Draw for kids:phone ed
Paper Camera
From the present batch of the sale I'd suggest downloading
SwiftKey X Keyboard
app. This helps you to write faster using a swiping method. Though some of the free apps do the same thing, I found SwiftKey X does it better. If you already have the 2.3.4
Android
update on your phone, then it might support this kind of keyboard after the update. In that case, it will be thoughtful if you choose some other app to make best use of this offer.
These apps might be changing everyday. So, keep checking for your favorite apps that you wished were almost free.