The Internet Corporation for Assigned Names and Numbers (ICANN) finally approved a new top-level domain (TLD) for domain names ending in .xxx.
Hereafter URLs ending in .xxx will contain sexually oriented adult entertainment content that is verified to be neither fraudulent nor illegal. We also believe sales of .xxx domains should begin soon in Q2 2011. Here I have mentioned the steps to reserve your own .XXX domain names.

Step 1 : Go to ICM Registry and register for a free account if you don't have.
Step 2 : After the basic Email Verification process, log into to your account. Now go to Reservation section.
You have the right to apply (on behalf of your customers) for domains in .xxx that they already own in .com, .net or another TLD, such as a country code TLD. This process is called Name Reservation. To do this, provide them with the existing domain(s) that you or your customers own.
You may submit as many domains, but only up to 1000 at a time using this form. Names must be entered one domain name per line. Enter ONLY the domain name, NOT in the form of a URL.
For Example…
domain1.com
domain2.net
domain3.org
Pre-Owned and Wish List
#Pre-Owned : If you wish to have domain.xxx for your domain.com or some other TLD, then use the "Pre-Owned" section of ICM registration to reserve .xxx names.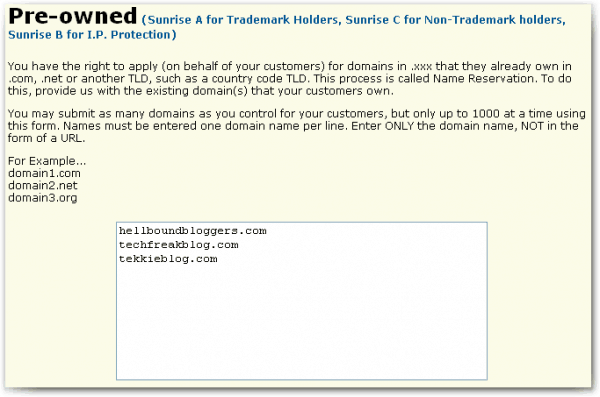 Example : If you already own domain.com, use the "Pre-owned" fields to reserve the name domain.xxx.
#Wish List : Use the "Wish List" fields to request name reservations for domains that you do not already own in other top-level domains.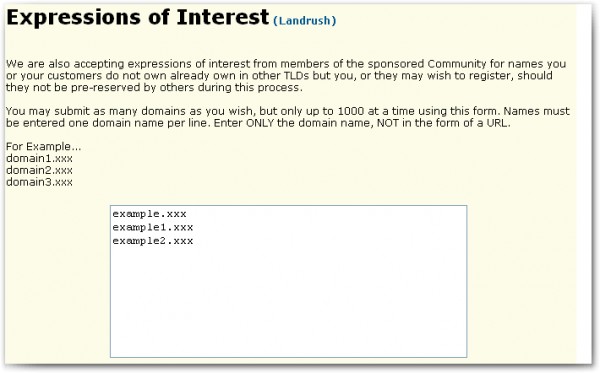 Click "Submit" to submit the .xxx name reservation requests to ICM Registry.
Do you think it will make any difference? Porn will always be porn whether it is .com or .xxx