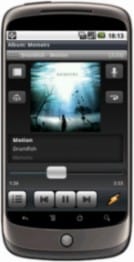 Winamp, one of the best Media Players out there, is now available in beta on Android 2.1 and up. Winamp is a media player for Windows-based PCs, written by Nullsoft. Android is a mobile operating system initially developed by Android Inc., a firm purchased by Google in 2005.
Winamp for Android offers a complete media management solution by seamlessly syncing with the Winamp desktop library. Also provides high quality playback and persistent player controls, wireless desktop sync with your Winamp desktop application (Winamp 5.59 beta required for this).
Standard USB syncing also available. Displays song info, album art and more. Press and hold on the song info to interact with other apps like Pandora, YouTube and the Amazon MP3 Store. It also supports scrobbling with the Last.fm app installed (on your Android device). Capturing all of your mobile listening history in real time. You can quickly pause, change tracks, manage your play queue, see what's playing and access the Winamp home screen. If you install Winamp 5.59 beta on your PC, you can sync and manage your libraries via USB or WiFI.
Earlier Skype and Android were connected and Skype is now available on a wide range of Android phones. Now Winamp and Android, let's see what is going to come next.
Continue reading Winamp [Beta] Now Available For Android 2.1 And Up