Remember your first Facebook status update? When you got the first like or comment for your status from your loved ones? If you search them on your Facebook feed, it will be deep down. So here is a simple way for it.
With the help of Archivedbook, we are going to find the old status updates. This site allows us to view all the old wall messages from your Facebook friends and all your old status updates. Archivedbook is a great way to review your Facebook profile's history.
Search Your Old Facebook Status Updates & Wall Posts
Go to Archivedbook. Now click on the Connect button and start remembering your embarassing Facebook past. 😆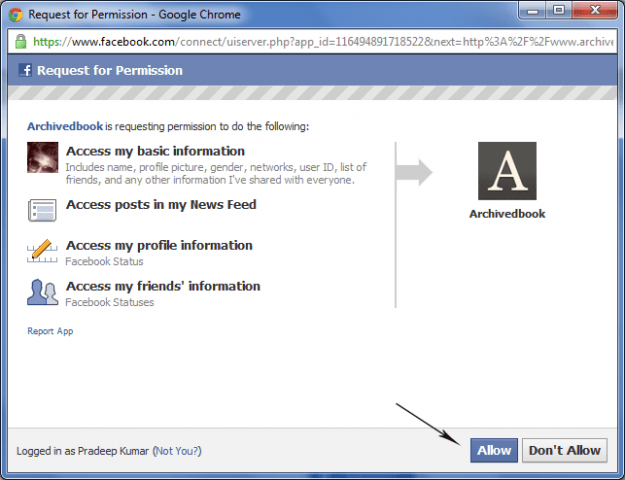 Now allow Archivedbook to access your profile, select the option 'Allow'.

Now it will retrieve the archived wall of your Facebook profile. Depending upon the number of status updates and wall posts you have it will take some time, usually it will be completed within seconds.
In the above picture, you can see my Facebook status updated on the year 2009, look how childish they are. 😀 To the left side of the status updates, you will have the permalink, so that you can view it directly on Facebook.
You can also see the number of likes, comments and respective permalinks for the status updates.
---
Search Your Friends' Old Facebook Status Updates & Wall Posts
Interestingly this site also allows you to search your friend's Facebook status updates and wall posts.
You just need to select the specific friend from the drop down list and within few seconds it will display all the status updates and wall posts (along with number of likes and comments) with the permalinks.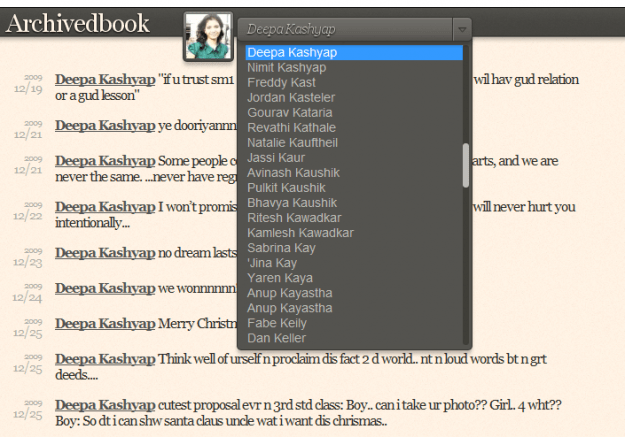 ALSO CHECK : 10 Cool Tips & Tricks For Facebook Users
Facebook, being an archive of sweet memories, helps us to connect and share with the people in our environment. So have you found this tip useful?