It is really interesting to make connections between man and machine. Jerry Jalava started it by replacing his lost finger with a USB finger. It looks like a normal finger but he can peel it back from the nail and plug it into the USB drive on his computer. Jerry Jalava is a Finnish computer programmer he lost a finger in a motorcycle accident.
The accident took place near Finnish capital Helsinky after crashing into a deer with his one week old Ducati Monster 696 motorbike. Jerry Jalava got this idea from a doctor who unintentionally said that he should have a USB "Finger Drive" and Mr.Geek went for this idea.
BTW, it is 2GB USB finger. This USB finger can store photos, movies and softwares like any other USB stuff.
This is not a hoax unlike the story of a guy who altered his thumbs for the better use of his phone keyboard. The Finnish programmer plans to "upgrade" his finger in the near future with a removable fingertip, an RFID tag and more storage space.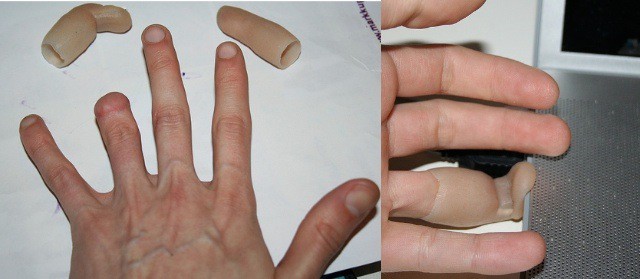 The finger is not permanently attached to his finger, it can be removed when using it in a computer.
Jerry Jalava says,
"It is not attached permanently in to my body, it is a removable prosthetic which has a USB memorystick inside it," said Jerry.
"When I'm using the USB, I just leave my finger inside the slot and pick it up after I'm ready."