What do you do when you want to change your blog's theme design, or maybe migrate hosting providers, but you have zero technical knowledge?
Those who try hacking away at it normally end up with lots of errors and costly downtime.
Thankfully we've found a solution. It's called Tweaky – The marketplace for website customization. Tweaky helps any website make changes (also called tweaks) to their website for as little as $39.
Every tweak comes with a 100% money-back guarantee making it a God send for website owners who just need quick changes made to their site.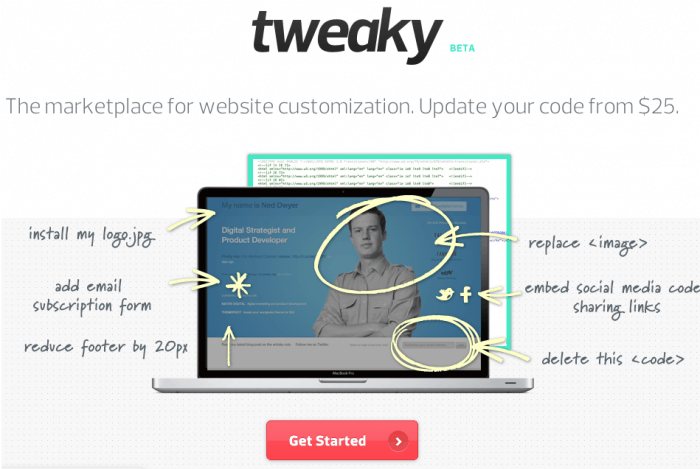 How does Tweaky work?
1. Submit Your Project
To get started, you submit your project via Tweaky's simple briefing form. You basically tell them everything you want to change about your website. You can be creative with your ideas or just keep it simple.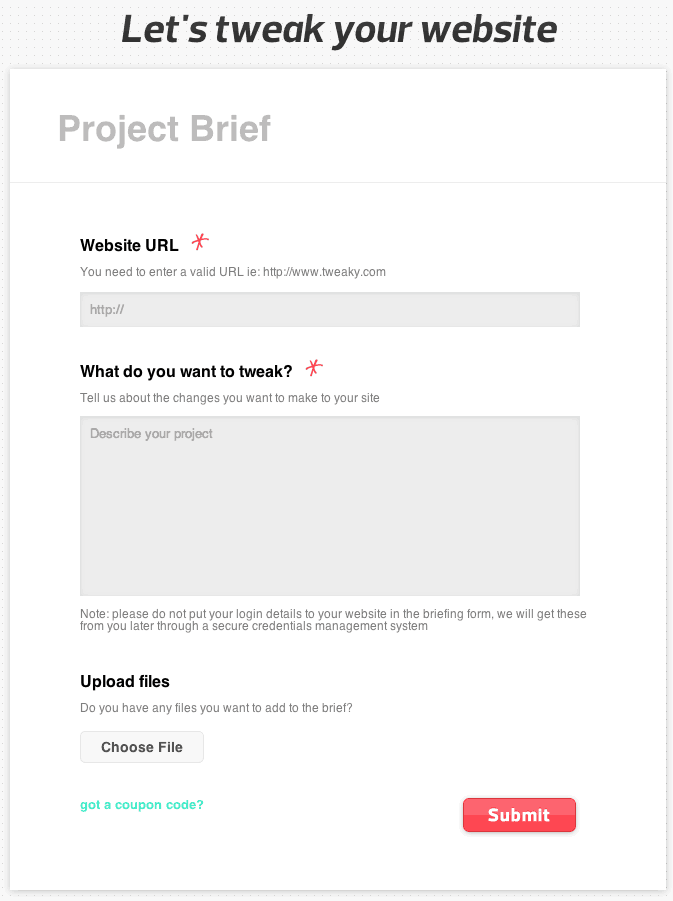 Tweaky's briefing form.
2. The Project Gets Quoted
A project manager reviews your brief and breaks down your request into a series of tweaks. Each tweak is $39.
3. Get the job done
You purchase the tweaks you want to be completed and a developer from Tweaky's curated marketplace gets the job done.
What Kind Of Projects Can You Use Tweaky for?
You really could use Tweaky for any web development project but here are some tweaks we recommend getting started on.
Customizing your blog theme.
Check/Fix Cross-browser compatibility issues
Migrate your site to a new server or self-hosting.
Adding social buttons.
Inserting a floating email subscription bar
If you're running a Magento, Big Commerce or Shopify store try using Tweaky for changes to boost your conversion rate. Things like changing call to action headlines, purchase button positions and even checkout pages could make a big difference to your bottom line. Spending $39 for changes like these seem like a no-brainer for us.
Tweaky also has a pretty handy collection of the website and WordPress customization case studies on their blog if you're interested in seeing some of their work.
Final thoughts
At the end of the day, when you compare Tweaky to the current options for customizing your website, it makes a lot of sense paying for $39 tweaks instead of $200 – $250 hiring a development company.
It also helps that all developers in the marketplace are curated so you can be assured of quality work.
Tweaky is definitely one of the more innovative business models we've seen and I can't wait to pump more projects through the marketplace. Give Tweaky a look and let us know your thoughts.