Nowadays, everybody shares their ideas, activities, events, and interests within their individual networks. They also want to see data of their social networks like Facebook and Twitter. They check out their activities and events on social networks.
There is a tool named ThinkUp which makes your search very easy. It is a open source application which is absolutely free. You don't need to pay to use it, can host it on your own servers, and there's a huge community of developers that are helping contribute to the documentation and source code.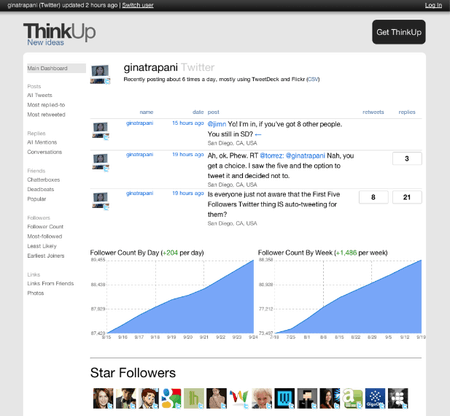 You can stock your social activities with ThinkUp. ThinkUp captures your posts, replies, retweets, friends, followers, and links on social networks like Twitter and Facebook. They will be adding more networks in the future. ThinkUp stores your social data in a database you control, and makes it easy to search, sort, filter, export, and visualize in useful ways. All you need is a web server that can run a PHP application. You can also check the useful tools to track your comments online.
Features
Analyzing : In order to perceive your social network activities, it provides you an accurate and understanding graphs and charts on its dashboard. It will help you to understand easily.
Searching : You can search for your own tweets, activities, events, etc.
Visualizing : Here is a new way to see your conversations. ThinkUp's rich visualizations let you see your replies mapped across the globe.
Publishing : You can publish your discussion on a blog or website.It is beneficial for everyone.
Connecting : Browse through all the links & photos shared on your social network, in one click, or easily review any tweets you have made as favorite.
Exporting : Export your tweets at any time and open them as a spreadsheet in Excel for further analysis. Or just save them for record keeping.
This article is written by Nikita Mishra. She writes about blogging, internet tips and tricks, SEO, cool websites, etc. If you wish to write for us, kindly check this.