Recently I checked out this StumbleUpon Widget and this one looks promising. Just embed a list of URLs into your site, highlighting your best rated StumbleUpon content. Just copy and paste a few lines of code onto your site and you'll get a personalized widget. It takes only 2 easy steps only!
This widget can easily help you to drive your audience to explore the best content of your site. This widget showcases your highest rated content, tailored by interest(s) and domain(s).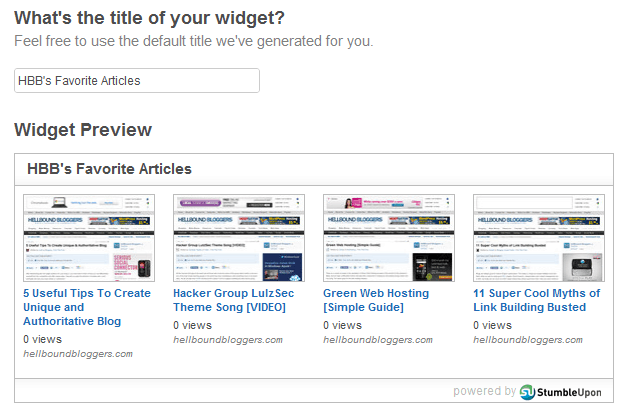 Creating StumbleUpon Widget For Your Blog
1. Go to "StumbleUpon Widgets" and enter your username in the "User Favorites" part. You can show favorites from one or more StumbleUpon accounts. Click "Next".
2. Now choose what type of widget you would like to use and write the title of your widget. That's all, you'll get the code for an awesome post widget! You can see the demo below.
But unfortunately the SU count is different or 0 for some of the posts, the official SU button count shows different numbers. Hope it is a small time bug since this SU widget is still in beta, but overall it is a cool post widget.