Banckle is a collaboration development company dedicated to delivering cloud-computing solutions to enterprises on a global scale. Banckle is an excellent suite of powerful collaboration tools which includes file sharing, web conferencing, live and group chat, email server, remote access, site search, and enterprise-level instant messaging.
You can access all these tools online via an intuitive dashboard interface, you just to logon, point-and-click, and you are ready to go. Did I say this, Banckle is free for one year.
Banckle Collaboration Suite Applications
#1 – Banckle Chat : It is a next-generation web-based application that brings a social and collaborative touch to your live customer support. You can optimize your business strategy and effectively remain only a click away from your prospective customers and potential sales.
#2 – Banckle Email : It is based on a flexible and reliable architecture that delivers high performance and maximal industry compliance while efficiently scaling to grow with the needs of your business.
#4 – Banckle Meeting : A light, platform-independent and feature-rich web conferencing solution that allows you to host online meetings, eLearning sessions and webinars, as well as participate in these activities, easily and effectively!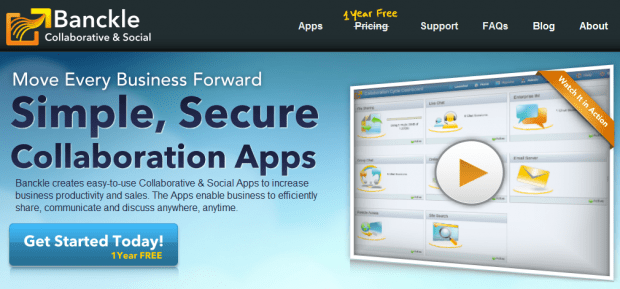 Features Of Banckle Suite :
Simple web-based business collaboration & communication tools.
Intuitive dashboard interface for accessing all the apps in one place.
Secure SSL transmission.
Two way video chat and group collaboration.
High-performance multi-protocol server.
Auto archiving and fast retrieving.
Centralized administrative control.
No installations required, works on every platform.
Compatible with XMPP IM clients.
---
Overall Banckle is an essential collaboration suite for your business needs. The best part is, you can try this suite for one year freely. You can see how it fits your company or organisation. You can find more reviews about Startups in the Startups section.