Video sitemap is similar to normal sitemap and it gives request to search engines to discover and index the videos in your blog. Sitemaps tell search engines about web pages, images and video content on your site that they may otherwise not discover.
Benefits Of Creating XML Sitemap For Video
If your blog contains lots of video files then you should create an XML Video Sitemap. It will help to improve your site's performance in Google and other search engines. Yesterday I created one for HBB (See Video Sitemap).
Most of the search engines ignore video content embedded in web pages. But if you use a video sitemap, you can easily ping search engines like Google, Bing, etc about the video embedded in your site. Video Sitemaps will help your blog posts rank well in both video search results as well as Google's web results.
---
How To Create XML Sitemap For Video?
For generating XML Sitemap for Video WordPress users can use Video Sitemap plug-in. You can generate an XML Sitemap for your site with a click. Install the plugin and click the "Generate" button. An XML Sitemap file will be created instantly and that will be stored in your site's root directory.
The Video Sitemap plugin will generate an XML Sitemap for your WordPress blog using all YouTube videos that you may have embedded in your blog posts.
After generating the video sitemap, you can ping Google directly using the plugin options or use Google Webmaster Tools and other search engine tools to connect your video sitemap with your blog.
Limitations : This plug-in currently works with YouTube videos only. But future versions may support Vimeo, Facebook, Flickr, Daily Motion and other online video hosting websites.
---
How To Submit Video Sitemap To Google?
1. Go to Google Webmaster Tools.
2. Under Site Configuration, choose "Sitemaps".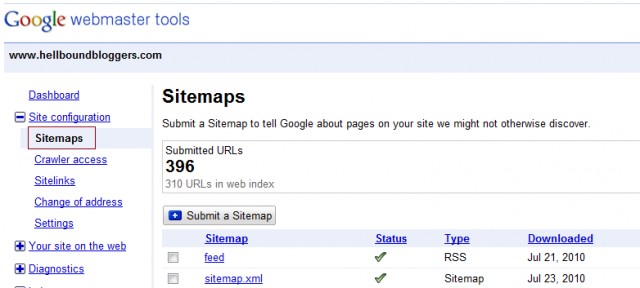 3. Select "Submit a Sitemap".

4. Enter the Video Sitemap URL or filename. https://hellboundbloggers.com/video-sitemap.xml)
It takes some time to get indexed. If you have huge amount of video files, then it takes some more time! 😛
So have you created a video sitemap for your blog? Do you know any other cool plugin for generating? Please share it in the comments!