I thought of writing my blog's site goals after getting PR 2 and now my blog has PR 2. So I thought of preparing some decent site goals for HellBound Bloggers.  "I want to get a PR". This was my goal for almost 4-5 months, because my blog had PR 0. Now I have PR 2. This made me realize the concept behind "Slow and Steady wins the race".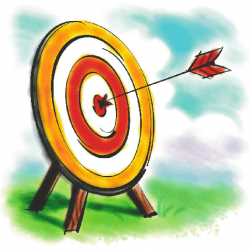 Miles To Walk Before 2009
1. Posting Frequency : I'm going to increase the number of posts in this blog. So I decided to blog atleast one post per 48 hours.
2. Daily Page Visits : Increase the daily page visits to 500+. Currently I have about 200-250 visits per day.
3. Google PageRank : To get atleast PR 4. Now currently this blog has PR 2.
4. Alexa Ranking : Enter the Alexa Top 100,000. Now around 200,000+.
5. Guest Posts : To write atleast 25 Guest Posts in major blogs. Now I have written five posts. If you wish to contribute for us, check this.
6. Twitter Followers : Increase my Twitter Followers. I don't have a number limit for this ! 😀
7. Online Friends : Increase my Online Friends to a large extend. I found many through various social networks.
8. Help A Newbie : This one is close to my heart. I love teaching people about what I know. If you need any help, feel free to contact me.
9. Form an Interactive Community : I think I can form this because I got many worthy and lovely commentators here.
10. Introduce Forums Section : Currently the forums section is under construction, hope I can make it active within this year.
Also I want to move HellBound Bloggers (HBB) to a dedicated hosting as soon as possible to manage the traffic.
I hope I can achieve these goals within 2009 with the help of my beloved readers, subsrcibers and commentators. Once again thanks for your devotion towards this blog.