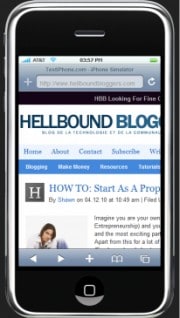 Not every blogger owns iPhone, but they do have a blog which gets quite some good visits from iPhone. So optimizing your websites and blogs for iPhone is a good thing, and that might also improve your brand and increases traffic. You can either optimize it completely or create an iPhone app for your blog.
Below I mentioned 2 useful web based iPhone simulators which will be useful for you to check how your sites look on Apple iPhone. You can also try iPhoney, but this one is desktop based.
Web Based Apple iPhone Simulators
#1 – TestiPhone : This is a web browser based simulator for quickly testing your iPhone web applications. This tool has been so far tested and working using Internet Explorer 7, FireFox 2 and Safari 3.
#2 – iPhone 3G/4G Tester : This is another web based iPhone simulator. To test your pages more accurately use the latest version of Safari. This simulator is an iPhone 3G/4G & iPod Touch tester.
You can also test your mobile site with these simulators. If you check your analytics you will be surprised to know how many people visit your blog from mobile/handheld devices. If you know any other online iPhone simulator, kindly share them here.