There are mainly two types of networks one is wired and the other is wireless. Wireless network is simply a computer network that is wireless. The importance of wireless network is not a hidden truth. Many people of you also using different wireless network for your home and office computers, using a wireless network is not enough you have to secure your computer into the age of technology, below are the tips to secure your wireless network.
#1 – Change Administrative Password : Router is an essential component to deploy a network, at the core of any wifi home network there is a access point or router, for managing your network manufacturer provides and account to access into router setting, manufacturer bind router with default password that can easily be find on manufacturer website you must change this password.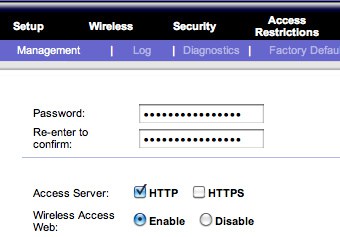 #2 – Think About SSID : SSID stands for Service Set IDentifier, you must change the default SSID name and turn off the SSID broadcasting to secure your wireless network. Basically most of access point and router continuously broadcast the network name (SSID) by your SSID name an attacker can identify your wireless device, if you turn off this than you are invisible for the other networks.
#3 – Limit Antenna Transmitter Power : Yes it sound cool but its not enough easy to implement, basically you will not find this feature on all the access point or router, but there are some routers that allow you to limit and reduce the transmitting power so that an illegitimate user cannot pick enough power to enter into the network.Well there are some attenuator are available in the market that reduce the transmitting power.
#4 – Use Static IP : Internet Protocol (IP) are the unique identity of the devices over the network, technology has been changed now most of the routers using dynamic IP address that is allow IP to every machine (computer or router etc) dynamically, this is not the right way to the home user, you must use the static or fixed IP mechanism instead of DHCP to prevent the misuse of your network.
#5 – Turn On Firewall : Now a days router's contain built in firewall that prevents hackers to gaining access into your computer, you must check that your firewall should turn on because there is a option to turn it off. Beside it you must install an extra firewall on your computer to enhance the security.
#6 – Use Encryption:Cryptography is simply the art of secrete communication, all the wireless equipment support some form of encryption. You must enable encryption feature to enhance the security. If you are using encryption technique so that your data that travel on air cannot read by human, if an attacker start sniffing on your network than he would not able to read your data.
This article is written by Irfan Shakeel. He is an Ethical Hacker/Penetration tester and currently running a Hacking Blog.