Rating is an important aspect for a review sites, how much rating a product has that much it will be valued by the customers. Recent Google algorithm started to show star ratings in Google SERP page that adds an additional advantage for blogs and review sites to increase their CTR in Google. If you need to show user ratings in SERP pages, just follow this tutor.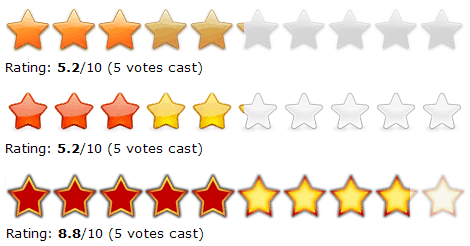 Here is the bunch of WordPress plugins to display vote button that makes easier for users to vote for their favorite articles, products and comments which adds extra engagement in your wordpress blog.
1. GD Star Rating Plugin
This plugin allows you to advanced thumbs rating and review system for post and comments in your blog. You can also add these star ratings to your sidebar, widget and other cool statistics generated by this plugin.
It adds an AJAX rating system for your wordpress blogs, it has a variety of options like manage rating, rating option, rating templates etc., and it has variety options to customize the plugin according to your themes.
It allows you to easily add ratings on your blog, you can even add your own custom image as star of the ratings. Click here to navigate through the bunch of star rating images which you can use it for your site.
4. Comment Rating
This plugin enables to rate on user comments in like or dislike fashion, similar like Facebook likes and dislike button. This type of plugin will be very useful blog which is getting good number of guest post and users interaction.
This is an extra addon to comment rating plugin which you had seen before, it displays ratings along with most recent comments on your blog sidebar. As it features on sidebar it really brings a lot of exposure to your blog comments as a result increase user engagement in your blog.
Note: You must install "comment rating" plugin in order to use this one.
Just by adding a small short code [xrr rating=4/5] you can display ratings in several formats supported by Xavin's rating plugin.
Run; manage polls and ratings in your blog from your wordpress dashboard. Choose themes and styles from 20 different options available and view all results of the polls to collect data's from users.
8. Simple Karma
This is a simple karma based wordpress plugin that allows users to rate content by altering the rating either up or down. This plugin can be used anywhere in wordpress like inside content, pages, comment section etc.
9. Vote It Up
Yet another plugin that enable visitors to vote up or down against post, a functionality similar to Reddit and Digg.
This article is written by Ron Davis. He is a freelance blogger and a passionate social media marketer.