Do you want to have better pagination controls in your WordPress blog? Take a look at the bottom of your blog, you should see 2 hyperlinks respectively "Previous posts" and "Next posts". These 2 hyperlinks let you navigate to your neighboring posts but as you can see they are very much limited. It would be better if you can display a more user friendly and better looking navigation system. In addition to increasing the user experience, it will also increase the SEO of your pages by providing more links to your older content. Use the following WordPress plugins to do just that!
WP-PageNavi is by far one of the best WordPress pagination plugin. It lets you replace the default previous/next navigation with an advanced, numbered paging navigation. The paging is user friendly as it allows the user to go to a page much more quickly by just clicking on a page number.
If you are adventurous, you can customize the pagination further by changing the CSS file that comes with the plugin. This will allow you to make the pagination match your blog's theme.

---
WP-Paginate is a simple but flexible plugin which enhances a WordPress blog's page navigation system. This plugin is easy to install and setup, and the default settings works just fine.

---
Paginator is a very unique pagination plugin. The look is ultra awesome and it is such a fun experience scrolling through, instead of clicking through the pages!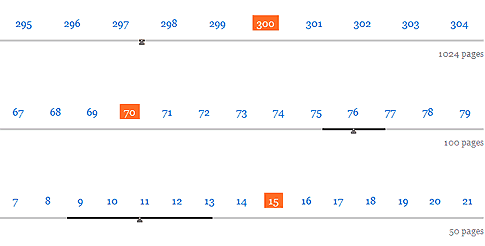 ---
#4 – Ajax Pagination (Twitter Style)
You should get this Ajax Pagination plugin if you are a Twitter fan. This plugin replaces WordPress default pagination behavior to the Twitter style using Ajax functionality. As soon as you click on the "Read more" button, the Ajax feature kicks and paging info is retrieved behind the scene. The user experience is great as the paging info seems to be loaded seamlessly.

There you are, the 4 Best WordPress Pagination Plugins based on my own experience setting up and customizing WordPress blogs. Of course, there are a few other pagination plugins available but I have yet to try them. Perhaps some of them has their own specific features and advantages. We might look into these plugins in a future article.
---
Other Useful WordPress Plugins Reviews
8 Great Plugins To Track WordPress Stats
4 WordPress Plugins You Should Try Today
10 Ways To Spice Up Your Blog With Plugins
12 WordPress Plugins To Enhance Your Blog's Performance
---
Do share with us what is your favorite pagination plugin in the comment below.