I guess you are aware about Dropbox, not to mention, one of my favorite productive tools. It is a Web-based file hosting service that uses cloud computing to enable users to store and share files and folders with others across the Internet using file synchronization. For showing our love, earlier we shared 5+ Uses Of Dropbox Every Blogger Should Be Aware Of. Now we are going to review an useful Dropbox tool, that will help you to play music directly from your Dropbox Account, which is not possible actually.
Normally if you want to listen to the songs in your account, you would download them to your machine and play them using the Media Player. Now DropTunes helps you to save some time here.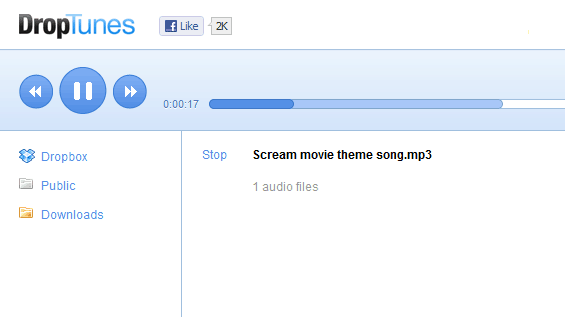 DropTunes accesses and plays your audio files on Dropbox. It creates a /Public/DropTunes folder in your account to store configuration files. This folder is regularly modified as new songs are requested to be played. Trust me, all you need is a good browser.
Go to DropTunes, login using your Dropbox Email and Password. Then all your Dropbox folders will load automatically. Open the folders that contain your songs, and play them as if they are in your hard disk.
Remember, to play a 5 MB song you must have at least 5 MB free space in your Dropbox, since they need equal amount of space.