If you are creative and have some experience in domain names, then you are ready to convert your talents into some huge cash. If you have a knack for coming up with cool, unusual and memorable names, domains or slogans – here is the smartest way to benefit from. We are talking about a site called PickyDomains.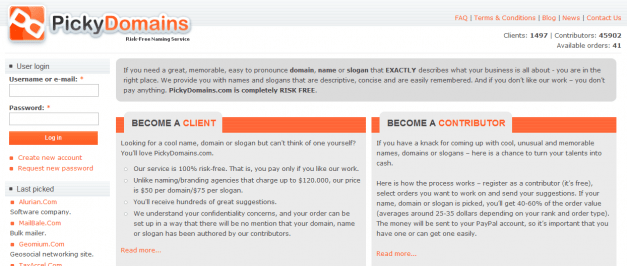 Here is how the process works – register as a contributor (it's free), select orders you want to work on and send your suggestions. If your name, domain or slogan is picked, you'll get 40-60% of the order value (averages around 25-35 dollars depending on your rank and order type). The money will be sent to your PayPal account, so it's important that you have one or can get one easily.
Earn Money By Suggesting Domain Names
The registration is instant and free, fortunately they always have a few dozen orders to work on and their ranking system is designed to encourage talented contributors – the more successful suggestions you make, the higher your commission.
After logging into your contributor account, you can check through the available orders. The deal is if you suggest a domain name that the client accepts, then you have the chance of getting a 50% revenue share. After making some successful suggestions, they enter into an approval queue that will be viewed by the client.
They right now have 45902 happy contributors and if you wish to become one like this, you can check PickyDomains.