Suppose if you are attending an Event, and lots of people taking their own photos. While you might try asking everyone for their shots afterward, you can make it simple by letting them upload online or just sending them to a custom email address. This is done by Yogile, a simplified group photo sharing website. This service is free for 100MB of upload space, if you want unlimited photo uploads, albums and storage, it will cost decent $24.95 per year.
What Makes Yogile Special — Features Compared
Friends and family can contribute with ease.
Submit photos as e-mail attachments or upload them online.
Each album features a customizable URL and email address you can share with anyone you want to contribute.
There's no need for friends and family to register, keeping the process simple and hassle-free.
---
The Process Of Photo Sharing — Yogile
#1 – You need to signup in order to proceed and this is the most simplest registration I have ever seen.
#2 – Now you can see the area where you can upload the images. You can also enter your desired album name.
#3 – After loading the picture, click "Start Uploading" button. The loading process will be really fast.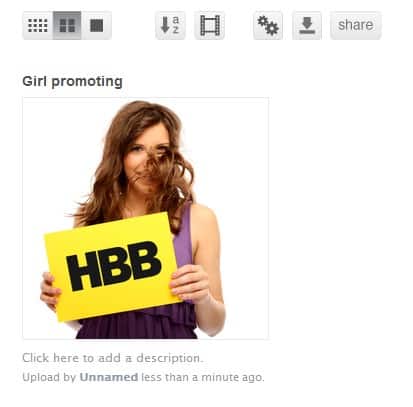 #4 – You can also view the photos as slideshow. You can even download all the photos from the album as archive.
#5 – If you want to share this album, just select the 'Share' option. Here you can find the album's dedicated URL (which you can use for sharing), check this one for example : http://www.yogile.com/cpb65lut
You have the option to embed this on your website and share it on social networks like Twitter and Facebook. If you wish to email this to your buddies, you can also do it without hassles.
Now tell me a good reason why you should not try this one? 😉 Though several photo sharing websites exists, this one still makes a mark. Yogile is also featured on TechCrunch, LifeHacker and TheNextWeb. Do tell your opinions after checking this awesome website.