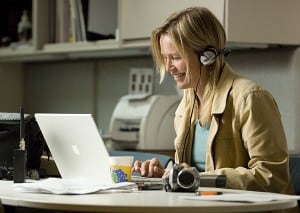 Occasionally professional bloggers feel burned out from writing content on a daily basis. This may be more common if you blog about a particularly dry subject. Don't try to mix things up on your blog for the sake of alleviating your boredom. If you have a dedicated readership then they likely depend on your blog for consistent posting—posting random content in a fit of boredom might send the wrong signals. Do yourself and your readers a favor and quit posting for the day if you have nothing to post on your blog that isn't relevant. If you're feeling stir crazy within the confines of your professional blog, start up an unrelated personal blog and give yourself some creative freedom.
Separate personal and professional blogging
A personal blog can be a great outlet for professional bloggers who could risk losing their followers if they blogged about topics outside their normal routine. If you run a strictly professional blog aimed at small business owners, for example, it would be unwise to post your opinions on the latest political hot topic in order to generate discussion. Rather than risk your blog's popularity, save your unrelated opinions for a blog unassociated with your professional work. Not only will this keep your professional blog on point, but it will provide you with a healthy outlet for your other interests. If you're blogging to small business owners, you likely have other passions that can't be tied into your daily posts. A personal blog may serve as a needed distraction and refresher from monotonous writing.
Look for Inspiration
When you're blogging about your other interests, keep an eye out for things that inspire you as a writer. Write whatever content that you feel like covering, particularly if you couldn't post about it on your professional site. Feel free to use your personal blog as a safe haven for new ideas or styles that you've been meaning to try. If you're too busy to maintain a full-blown blog, try to maintain a microblog like Tumblr where your posts can be as brief as a picture or a sentence. Give yourself time away from your main blog: you'll find that creative distractions on your personal blog will lead you to a renewed interest in your full-time money making blog.
Vent
One of the benefits of maintaining a personal blog unaffiliated with your other work is that it gives you the opportunity to vent without fear of the consequences. Use your blog to let it all out, whether you're stuck on a post in your professional blog or if you're just fed up with a particular matter that's been irking you. Writing out your frustrations often helps soften their impact on your mood. If you make a conscious effort to separate your frustrations from your professional blog, you'll be much less likely to make an impulsive post that you may regret later on.
This article is written by Susan Wells. Susan writes on topics including health/car/life insurance, mortgage, real estate. If you wish to write for us, kindly check this.