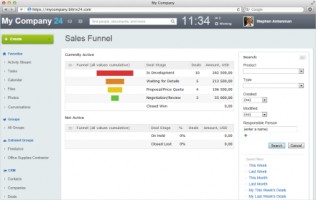 Bitrix24 is a new SaaS (software as a service) cloud based social intranet platform that makes corporate intranet easily available to smaller companies. It does not take any time to deploy (everything is already installed and set up) and doesn't cost anything if it's used by companies with fewer than 12 employees.
At first, Bitrix24 looks like corporate Facebook – there is the wall or activity stream where different employees engage in discussions and vote by 'liking' ideas, documents or workgroups. There are also instant messenger and photogallery. This is where the similarities end.
Free CRM (Customer Relationship Module)
The first important Bitrix24 module is free CRM (customer relationship module) that comes with a database for clients and prospects that are easily sorted by events (phone call or meeting, for instance). Next comes the sales funnel that divides clients into easy-to-work-with groups – new prospects, first contact, requested quote, scheduled meeting, negotiations and sales, for example (the actual setup is customizable). Bitrix24 free CRM is designed for easy interactions with clients. For example, you can send an e-mail to a certain group as well as import/export any client information. You can also set Bitrix24 to automatically import 'leads' that are generated by any site into the CRM.
Document Management
The second important module is document management. This module allows storing, editing and collaborating on various documents with co-workers. The documents can be made private (visible to document owner only) or shared. Bitrix24 also tracks version history, making it possible to revert to older version of the document, if necessary. Importantly, you can map a single document library or all of your document libraries to a network drive on your local machine literally in 2 clicks using WebDav. That means that whether you use Windows, Mac OS, or Linux, you will be able to see the documents in the intranet locally through your file manager.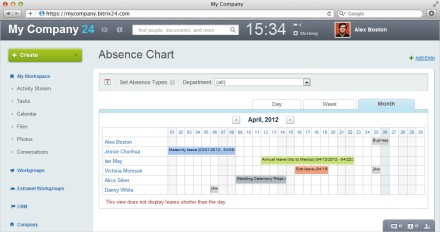 Planning & Task/Project Management
Third and fourth are planning and task/project management modules. These include calendar, work reports, absentee charts, meeting scheduler, personalized to-do lists, time management tools, even Gantt charts for easy visualization of progress made on specific projects. The employees are split into workgroups and access rights are assigned to each individual. For example, the department head may see work reports of his subordinates only, while vice-president is able to view every work report made by any employee.
Because companies tend to outsource or hire outside contractors/freelancer Bitrix24 allows one to easily integrate those into workgroups and give non-employees access to corporate intranet with restricted rights specified as necessary. Also, for higher mobility, Bitrix24.com can be easily accessed via iPhone, iPad or any Android based device.
As mentioned, Bitrix24.com is free when used by 12 employees or fewer. Bitrix24.com can be used by unlimited numbers of workers for $99 a month. Unlike other similar services, Bitrix24.com doesn't charge extra for each additional employee, since it is cloud based and ample storage is available. The premium version is priced at $199 a month.