Internet faxing (or "online faxing") is a general term which refers to sending a document facsimile using the Internet, rather than using only phone networks (traditional faxing) with a fax machine (via Wikipedia).
Below I mentioned top 5 Internet Based Faxing Services. I picked 10+ Internet Based Online Fax Services, but found the below 5 most worthy. These internet fax services include both free and paid services.
#1 – GotFreeFax.com : Using this service you can send up to 2 faxes in a day for free to any number in the U.S. and Canada.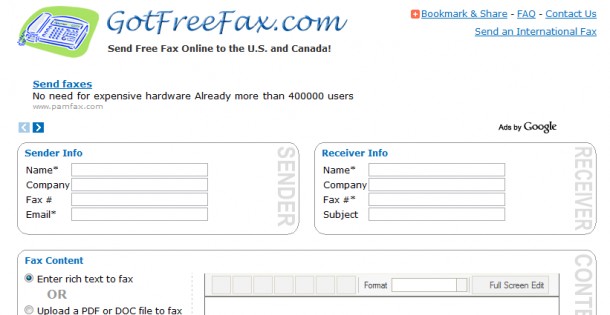 They provide you an online rich text editor to compose a fax. You can also upload a PDF /Word file from your computer. Now you need to type the recipient's fax number and click send. GotFreeFax won't add any logo or ad to your faxes. For sending fax to an international number, you need to buy credits through PayPal.
---
#2 – myFax.com : My Fax allows you to send two faxes, with up to 10 pages each, per day for free. MyFax Free lets you send a fax at no charge through the Web to 41 countries including the US, Canada, most of Europe, China, Japan, and South Korea.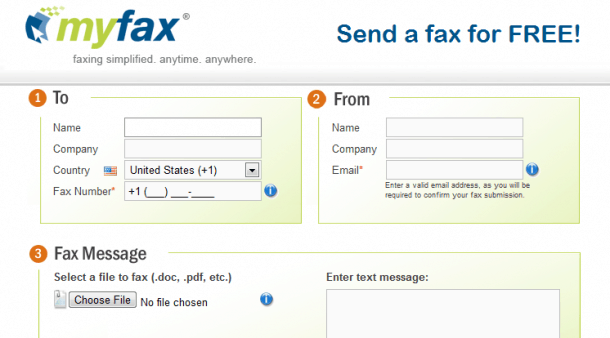 The fax will be sent within a few minutes but it can take longer if the recipient fax is busy. MyFax will retry twice, for a total of 3 transmissions, if the initial fax attempt fails.
---
#3 – GreenFax.com : With Green Fax you can again send and receive faxes via email. You have the option to receive your inbound faxes in either PDF format or TIFF format.
Faxes received in PDF format can be opened and printed using Adobe Reader, which is available free of charge from Adobe, Inc. Faxes received in TIFF format can generally be opened and printed on most Microsoft Windows systems using software included with Windows.
---
4 – eFax.com :With eFax, receiving a fax is as easy as opening email. You will receive an email with a PDF or TIF attachment to an email address you specify. You may also access your faxes by logging into your eFax account anytime from anywhere around the world.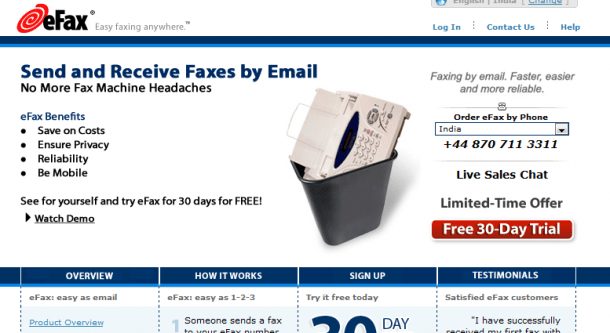 eFax has the largest available inventory of fax numbers: local or toll-free/freephone numbers are available in 3,500 cities across 46 countries. 100% mobile, you are free to keep your number for as long as you wish to maintain service.
---
#5 – RingCentral Fax : With RingCentral Fax you can receive faxes in your email inbox and fax any document from within any Microsoft Windows® application. Your subscription includes a local or toll-free phone number, free fax software, and many other features.
Have you used any other Internet based fax service? Please do share with us below.