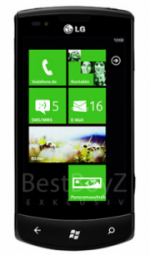 The LG E900's (Optimus 7) 'official' snaps meant for press release only quite recently leaked and it is creating buzz already. For many it is not surprising to see Windows 7 powered phones pictures leaking. The fun part is, when the official event actually comes around, most people there will be already knowing all they want to know about these upcoming phones. Now it's hard for them to tell us anything we don't already know.
LG E900 (also know as Optimus 7) is the first Windows 7 powered smartphone, we are not sure why they haven't picked Android, maybe some deal between Microsoft and LG. Also believed to have DLNA-based multimedia sharing feature and Snapdragon 1.3GHz CPU.
The LG Optimus 7 E900 will be available starting the fourth quarter of this year (2010). We are not aware about the price as of now. For more LG E900 leaked images you can check the source.
I think Windows has no big deal about Leaked stuffs, we have already seen Windows 8 Features and Docs and also Windows Phone 7 Advertisements.
Continue reading LG E900 (Optimus 7) Official Press Pictures Leaked