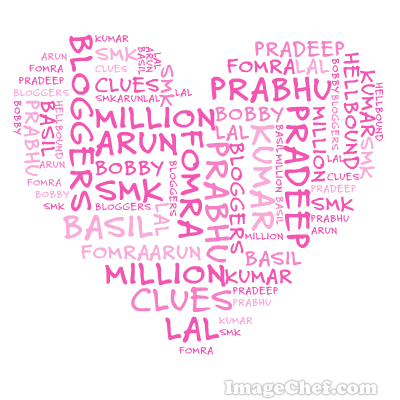 "One picture is worth thousand words". This is a old Chinese proverb which means "Picture's Meaning Can Express Ten Thousand Words". But what if the picture is nothing but a bunch of words!? Confused? Pictures explain concepts better than words. But this feature from ImageChef lets us create a image or symbol with beautiful bunch of words. This is one of the word feature of ImageChef. It has a new cool feature called word Mosaic that lets us create beautiful word clouds. You can even customize the symbol you want to use in your word cloud. The users also have option to edit the background and font colour. If you don't like the font means, you have a set of predefined fonts, you can choose your desired font from them. 
You can save the image and upload to your Orkut, Facebook photo albums to show off or you have the option to directly upload the photo to many social networking sites like MySpace, Orkut, Hi5, Friendster, Tagged and you can also upload it to your blog [Blogger]. You can also copy the embedded code and paste it in forums, comment box, etc or get the separate URL of the image. The users have the option to resize their images from small, medium and full size. Most of the users prefer full size. You can also share this on Facebook or add to your profile. Write a comment or poem in the shape of hearts or other symbols.
 
So there is Word Mosaic, what should I do with it ?
This is a cool application and you will spend more time on it when you know the art of designing a cool word cloud. You can use it anywhere. You can extend your imaginations and limitations to a high level. You can create your own greeting card. You can use this as a profile display picture in Orkut, Facebook or any other social networking sites. You can also create a magazine cover or insert this image in a business card.
I made a cool word mosaic with names of people who I like the 
So what are you waiting for? Go and check out this ImageChef.
Other Useful Online Free Tools For Creating Designs :
Create Twitter Mosaic Of Your Twitter Friends and Followers
HOW TO: Create Cool Photo Collages Online Easily
Add Animated Speech Bubbles To Your Photos