HTML is the predominant markup language for web pages. There are lot other online tools available for lot other things but when it comes to HTML programming there are few available on net in which many are slow to load.
So I thought to share these 3 HTML editors having instant preview.
Top 3 HTML Editor with Instant Preview
Name says all, it has few qualities like, fast load up, WYSWYG editor, instant preview. These are the qualities which makes this editor different from others.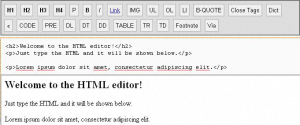 ---
This tool is dedicated to experienced web developers, or for them who are learning. You can copy a few piece of code or entire web page it doesn't matter but when you edit you can see the preview instantly.

---
Simple 2 box looks with instant preview makes this editor most simple but effective one compare to others. It loads in 2 seconds. Having CSS tags, you can type HTML in the text area box, and it will magically appear in the frame below. You can use it from your mobile browser.

Hope you'll enjoy all three. Let me know in comments which one becomes your favorite amongst all three? Mine is HTMLedit.
This article is written by Irfan Siddiqui. He blogs at RealTimeTricks where he helps others with blogging tips, tech news, gadget tips, computing tips and tricks and other great updates. Follow him on twitter via @RealTimeTricks to keep in touch with him. If you wish to write for HBB, kindly check this.