If you are looking for an iPhone App to manage and read all your Google Reader subscriptions, stop no farther than MobileRSS.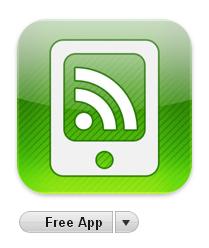 Google Reader already has an awesome interface for Smart phones, especially the iPhone.  It's nothing short of an iPhone App in more ways than one.
MobileRSS is an iPhone App that can link up to your Google Reader account and synchronize all the subscriptions available there.  Here are a few reasons why MobileRSS may be preferred over the traditional Google Reader Web Application
---
Why MobileRSS?
Offline Access
You can synchronize all the latest posts with a WiFi connection and later read them at your convenience.  This provides you offline access and prevent the usage of costly Mobile Network bandwidth.
Sharing made Easier
Google Reader allows you to share the posts with other readers and also over the e-mail.  It doesn't yet integrate sharing with Twitter etc. for the mobile version.
But MobileRSS overcomes this limitation and enables you to instantly share items on Twitter, Facebook, Delicious etc.  (Refer to the screenshot below)
Save Bandwidth by disabling Images
You can setup the application to download images only with a WiFi connection.  This saves you bandwidth even if you wish to synchronize posts over the Mobile Network
Use Multiple Google Reader Accounts
You can setup Multiple Google Reader Accounts (a.k.a Google Accounts) and the MobileRSS App can fetch the feeds from all of them
---
Few Images…
---
Try this FREE App and let us know what you think! For more reviews about free iPhone Apps, subscribe to our feeds, so that you can get them as quick as possible.