WP Perfect is a two column SEO optimized WordPress theme designed and developed by my blogger friend – Simrandeep Singh from TricksDaddy. Thanks Simran, for making this splendid theme free of cost. Kudos! 🙂
The best thing about this theme is it's simple and professional look. I agree with the name, it's PERFECT. WP Perfect is fully compatible with WordPress 3.0. Users who are not well in coding can also easily use this theme.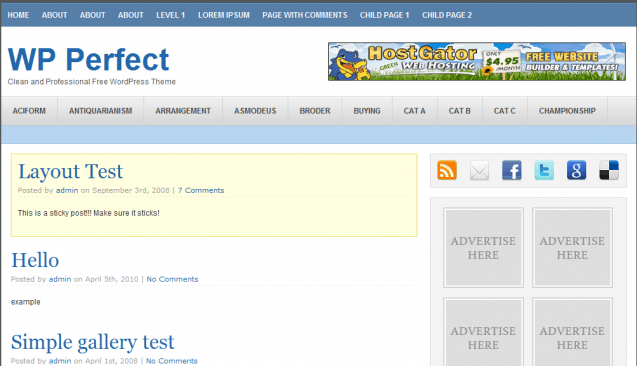 Features of WP Perfect
Simple and Professional
xHTML and CSS valid
WordPress 3.0 Ready (Custom Menus and Custom Background)
Fast loading
Fixed width
2 Columns
3 Column widgetized footer (Footer widgets can be disabled from the options page)
SEO Optimized
Theme Options Page to control the basic settings of the theme
Author profile box below post
Styled sticky post
Free of cost
---
Theme Options Page Settings
WP Perfect has modern looking jQuery powered theme options page which offers better control options to its users. The theme options are available under Appearance tab by the name of 'WP Perfect Options'.
General : If you want to use the custom favicon for your blog, you can paste the URL of your custom favicon in this tab. Author profile box can also be enabled or disabled from General tab.
Header : You can use your own image logo. Just paste the URL of the image. You can also enable the secondary menu to use Google Links Ads from Header tab.
Sidebar – Social Widget : Sidebar social widget tab enable or disable the social widget in the sidebar. Simply paste your user ID's and widget is ready to use.
Sidebar – 125×125 Ads : This widget is used to display banner ads of size 125×125 in the sidebar of the theme. Just paste the URL of the banner and link to it.
Footer : From Footer tab, you can control footer widgets. You can also paste your stats or tracking code like Google Analytics code here in the Footer tab.
Do tell us your opinions about this gorgeous simple and stunning theme!