Long back, I shared a tutorial for downloading HD Quality Youtube videos and we also shared how to download Facebook Albums easily.
Now I'm going to share another simple tutorial for downloading Facebook videos in three easy steps.
Working Procedure For Downloading :
#1 – Go to Facebook Video Downloader and enter the Facebook video link in the download box shown.
Video Link? How to get that?
It is really simple. Go to the specific Facebook video, right click on it and select "Copy link address". [I used Mozilla Firefox here and it is recommended.]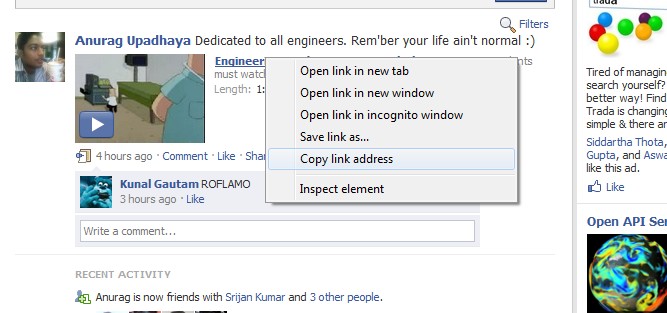 Example : http://www.facebook.com/video/video.php?v=105596872793612
After getting the video link, paste it in the download box as show in the picture below.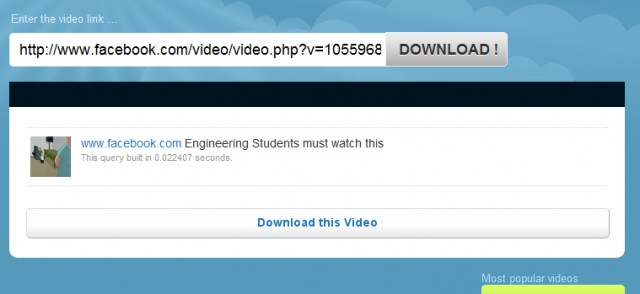 #2 – Now click the "Download This Video" button and then the streaming video opens in a new window.
#3 – Right click the video and select "Save video as..". Hurray! Now your desired Facebook video is downloaded.
---
If you are a Facebook Addict, then these might be useful to you :
10+ Tips To Identify Fake Profiles On Facebook
5 Cool Greasemonkey Scripts For Facebook Users
5+ Best Sites To Sell Facebook Applications
10 Cool Tricks For Facebook Users

You can also try Facebook Video Downloader Chrome Extension for downloading Facebook videos easily.

Do You Know? You can embed Facebook videos on your blog without downloading them.

Do you know any other way/method for downloading Facebook videos easily? Please share it in the comments.